Escaping reality through art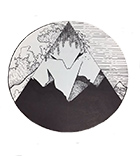 Hang on for a minute...we're trying to find some more stories you might like.
Artist of the Issue
Junior Alexa Buzan explains the significance of art in her life
     Art is in everything. We appreciate art for its ability to reveal an author's thoughts and opinions, for its visual beauty, and for its emotional power. It takes a special mind to create life from something intangible and inanimate.
     Junior Alexa Buzan has been an artist for her whole life, however, her canvas isn't always paper.
     "This year, I'm taking printmaking which is pretty awesome because it's really interesting," Buzan said. "I recently made this art piece dedicated for my mom and I just sketched out this portrait of her from this really old polaroid picture of her posing and then I incorporated water color into it and I hot glued these fake roses as a boarder."
     Printmaking is a class taught by art and photography teacher Kayti Hahn.
"Printmaking is learning how to make multiple pictures of an original image that you draw or make in various different printing plates," Hahn said. "We've learned how to make our own printing plates and add different textures to them and hand print them similar to making our own stamps."
     Although this is Hahn's first year having Buzan in class, she says Buzan's style is different from a lot of the other students'.
     "I think [her style] is unique," Hahn said. "It's edgy. It's kind of dark, but not in a bad way. It's got like a punk rock kind of feel to it."
     Along with putting art on paper, Buzan also puts her art on her body.
     "My first [tattoo] is an art piece that I drew for a project called 'order in chaos' last year," Buzan said. "My two other [tattoos] are of a skeleton in a casket and it says 'just chillin' and 'I Love You Momma xoxo' in my mom's handwriting. I got that for her remembrance since she passed."
     Buzan said that all of her tattoos have a special meaning to her.
     "My first tattoo, the one with the order in chaos, basically connects how I've been going through life since I was little," Buzan said. "The wave in the project means chaos resembling the chaotic stuff I've gone through and the mountains are order so I'm showing how I'm stable through all of the chaos. The one with my moms handwriting is this letter she sent me from 2013 and i wanted to get that on me because it's her handwriting."
     Tattoos can serve multiple purposes. For Buzan, tattoos serve aesthetic and remembrance purposes.
     "I love tattoos," Buzan said. "I really like putting my tattoos everywhere that's noticeable because that's just how i express myself because all of my tattoos came from my original ideas."
     Buzan says she uses art as an escape from reality.
     "Art helps me a lot through things," Buzan said. "It's kind of like therapy to me."
     Art means a lot to Buzan which is evident in class according to Hahn.
     "I expect really cool things to come from Alexa because she thinks differently that most kids her age," Hahn said. "She sees the world differently than kids her age which most artists do, they see the world differently or they see things that other people might look over or see things in a different light than most people would and I see that through her. I'm hoping that she finds a creative outlet whatever it may be. If she wants to be a tattoo artist or a print maker, a cosmetologist or whatever. Just some kind of creative output is what I'm hoping for her."      
     Buzan is continuing her artistry by taking cosmetology at Kaye's Beauty College.
     "I love art," Buzan said. "It's my life. I haven't really been drawing like I used to because I'm always busy with school since I'm in beauty school now, but usually whenever I catch the time to sketch and stuff, I'll do it."
     "I think art is our humanity, it's what makes us people," Hahn said. "Animals don't create art. Animals have jobs that they do within their own little communities. Animals can be scientific like bees. Animals aren't sentient enough to create something outside of themselves for its own aesthetic point so I think it's what makes us human."
Read about another artist here!