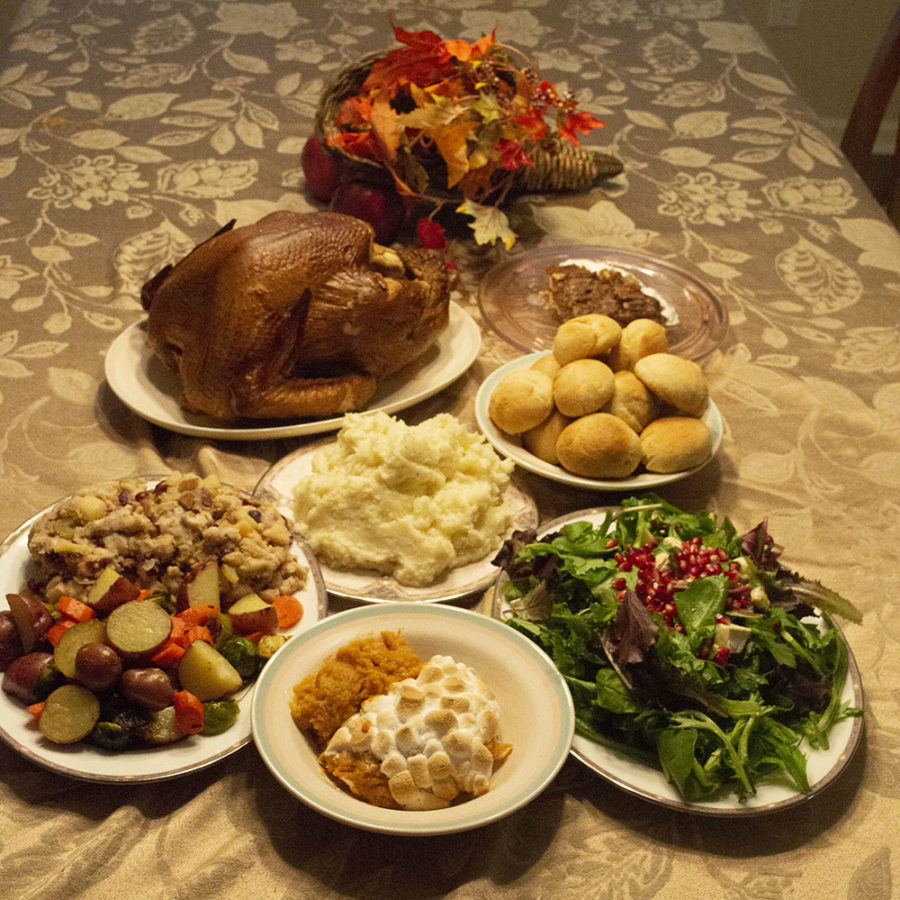 Turkey
The secret to roasting a turkey without drying it out is brining. In this case the brine would simply consist of salt and water. Using the ratio of one tablespoon of salt per cup of water, make enough brine to fully submerge your turkey. Let it brine for 24 hours, then rub a little olive oil, salt and pepper on the turkey, throw it in the oven and you'll be set.
Stuffing
If made right, stuffing has a flavor profile that is second to none. For the stuffing you'll need:
One 12 oz bag unseasoned stuffing bread cubes
2 stalks of celery cut into ¼ inch pieces
1 medium white onion, diced
4 apples, diced
12 ounces of mild Italian sausage
1 cup of dried cranberries
Poultry seasoning, to taste
Salt and pepper to taste
1 stick of salted butter
Chicken broth
Over medium heat, melt butter, then add onion, celery, apples, and cranberries. Cook until celery is translucent. Add sausage and cook completely while breaking into small pieces.
Place bread into a large bowl and add the cooked sausage mixture.
Slowly add chicken broth and mix until desired moistness is reached. Keep in mind that if you are going to bake your stuffing, it will lose moisture in the oven.
Add poultry seasoning, salt, and pepper to taste.
Put the stuffing inside of the turkey cavity and bake according the birds packaging instructions.
Yeast rolls
It isn't Thanksgiving without buttered rolls, this recipe makes 20 rolls perfect for your holiday dinner. For these rolls you'll need:
4 teaspoons instant dry yeast
4 ¼ cups all-purpose flour
2 teaspoons salt
3 tablespoons granulated sugar
½ cup melted butter
1 ½ cups warm milk
1 large egg
To start, get all your ingredients measured out in one place.
In an electric stand mixer equipped with a dough hook, combine milk, yeast, flour, egg, salt, sugar, and melted butter.
Mix on low speed until all ingredients are incorporated.
Mix on medium speed for 15 minutes. Add small amounts of flour as needed until the dough pulls away from the sides of the bowl.
On a lightly floured surface knead lightly to form a ball. Place the dough in a lightly oiled bowl, cover, and let sit for an hour until the dough is doubled in size.
Separate the dough into balls, about 2 ounces each. Place the balls on a buttered 19 x 13 baking sheet, with no space between them.
Brush the tops of the rolls with egg wash (one egg whisked together with one teaspoon of water.)
Bake the rolls at 375˚ until golden brown and cooked all the way through.
Mashed potatoes
To start, wash and peel your potatoes (as many as you want). Boil water and add the potatoes. Cook until tender when poked with a fork. Then, drain the water and use an electric hand mixer to break down the potatoes. Add butter, salt and pepper to taste. Use the hand mixer until the potatoes have a creamy texture.
Sweet potatoes
Follow the same process used with the mash potatoes up until the sweet potatoes are mashed up. Add butter and brown sugar to taste. Then, add milks by small amounts until the potatoes reach a moderately thick consistency. Put the sweet potatoes in a 9×9 baking pan, top with mini marshmallows, then put it in the oven on broil until the marshmallows are golden brown.
Roasted vegetables
An easy side, this consists of carrots, brussel sprouts, and baby red potatoes. Begin by cutting carrots into bite size pieces, and cutting your potatoes and brussel sprouts in half. Lightly cover with olive oil, then season with salt and pepper to taste. Roast the veggies at 400˚F until the potatoes are tender when poked with a fork.