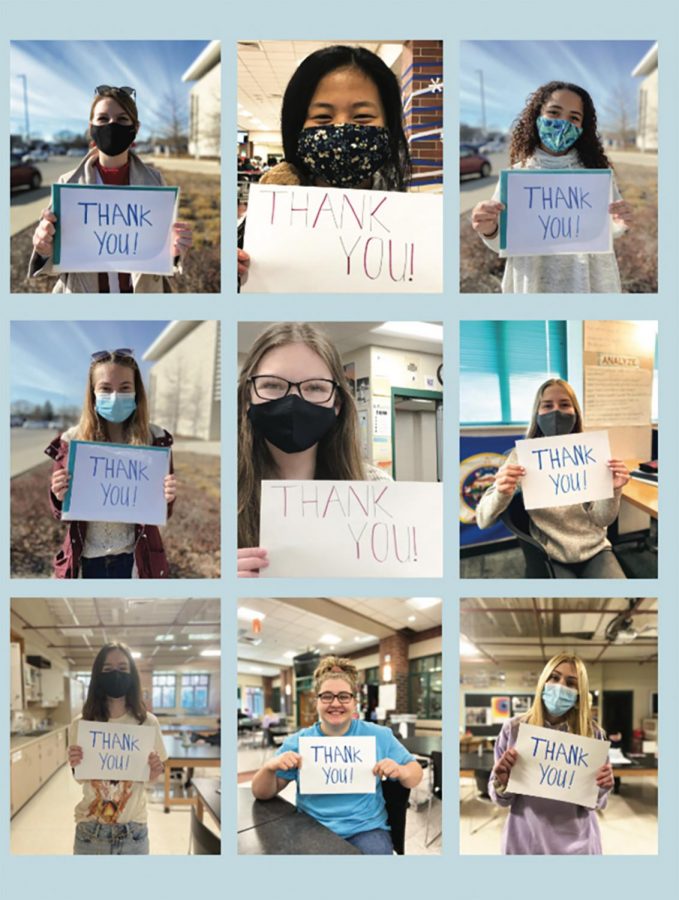 A. Guinn & R. Kaur
2020 was an insane year for everyone. From schedule changes, COVID cases, and adjusting to necessary precautions, students at NHS have had their fair share of chaos. This pandemic has proved to be a test for everyone, especially the leadership at our school. As students at NHS transition from class to class, they understand what occurs on their end, but what happens behind the scenes can sometimes feel largely unknown.
NHS Nurses Sandy Burnette and Apyl Wallace have worked throughout the pandemic keeping students happy and healthy. Their work has not gone unnoticed by the school administration.
"In our current COVID time their importance is further amplified as there is now a higher level of complexity added to their work every day. Their knowledge and expertise is one reason we have been able to stay open and safe this year," Dr. Craig McCaffrey said.
This pandemic is new to everyone, but working though it for someone with a new job is an added struggle. Wallace, who only started her school nursing journey a year ago while continuing to work in the ER as a PNR (pro re nata) claims her biggest challenge is staying organized.
"We see kids and we have daily meds and daily procedures that we do, so it's been really busy with the addition of COVID, because we (nurses) try to run all the COVID things through us," Wallace said.
In the heat of the pandemic, school nurses are working to keep students safe and the school doors open. COVID has made their schedules even more chaotic, leading to prioritizing care.
"Our volume of care has shifted to triaging phone calls from parents and students.  We want to be able to help our parents and answer their questions, but we want our kids in the building to be our first priority and well cared for," Burnette said.
Even though the virus and implementation of procedures to keep everyone safe is new to almost everyone, the nurses needed few adaptation.
"Besides masking in the clinic, I don't really take any other precautions above and beyond what I did before the pandemic. I always encourage hand washing," Burnette said.
Though responsibilities as school nurses have increased, the number of students seen daily have decreased more than half of what it was before the pandemic.
"Prior to COVID, a busy day would be 80-90 students. With the hybrid schedule, (and) not as many students in the building, I would say a busy day would be thirty kids," Wallace said.
Due to the high demand of medical and sanitizing supplies grocery stores are limiting large quantities of these products. Getting your hands on any name brand medical items is difficult in the current environment, but the clinic at NHS has yet to run out of these necessary supplies.
"We have been fortunate that our PPE (Personal Protective Equipment) is provided by Community Hospital so we have been able to get plenty of what we need. I still tend to pick up Clorox wipes at the store when I find them just to have a stash here at school," Burnette said.
It's difficult creating a welcoming atmosphere six feet apart, but the nursing department is doing their best to create this connection in a sanitary environment.
"Our goal here in the clinic is to make our big school feel small. Meaning we're very relationship based, so when we talk to a parent, we want to remember who their kid is, and that's been hard," Wallace said.
Nurses at NHS have made an effort to manage their everyday nurse duties with the addition of COVID. They claim this wouldn't have been possible without the support from administrators and behind the scenes planning.
"I have been so impressed with the hard work the administrators here at NHS put in over the summer.  They really thought out our processes and how to best keep students and staff safe," Burnette said, "The processes they designed work and that is what has allowed us to continue to meet in person on our hybrid schedule. The administrators are very supportive of the nursing staff and work with us to manage COVID the best we can and keep our building a safe place to be".
Though COVID testing is not directed by nurses, their involvement is still essential to keeping the school open and safe. From managing parental calls regarding COVID to keeping up with CDC recommendations, the NHS nurses say they're making sure students' health is their first priority.
"I would want kids to know, even though COVID is here right now and it's affecting our everyday life, it won't be this way forever. There's more to life than COVID. Try to do the right thing: wash your hands, wear your mask," Wallace said.
McCaffrey acknowledges the importance of NHS nurses and has worked with them to keep the school open.
"In our current COVID time their importance is further amplified as there is now a higher level of complexity added to their work every day. Their knowledge and expertise is one reason we have been able to stay open and safe this year," McCaffrey said.
Today's Agenda
What are your mornings like?
"I start my morning with checking voicemails from parents and answering the phone calls to help parents decide if it's ok to send their kids to school based on any symptoms or covid exposure they might have had." -Burnette
"We come in at 8, we get started before the kids get here, we open the clinic, unlock certain drawers, get water for our daily meds, we try to set up for success – anything we can do to make the day easier, try to clear some kids to come back today. We check our fax every morning, AED checks in the morning, we check email to see if there's any communication from students, we check equipment to make sure equipment is working, we also do a lot of staff, they stop in with questions." -Wallace
What are your afternoons like?
"A lot of people receive results from their covid tests in the afternoon, so more phone calls to notify us of positive cases in which I may need to initiate contact tracing or a negative result to decide when the student may return to school." -Burnette
"We're here til 4 so we stay until all the kids are on the bus or where they need to go, some kids come in late with immunization notes and doctor notes and last minute headaches, we have to chart every kid on their time in and time out… that helps us stay organized. We lock up all the drawers, medications, turn off the lights, we take any last minute voice calls, and that's about it and we try to sneak out about four." -Wallace
A Student Nurse's Perspective
Students in the CNA (certified nursing assistant) course get to learn important skills necessary to properly care for patients. In a regular day, students would either spend their time learning in a classroom or getting experience, hands-on, in a nursing home. Though some of this has change due to the circumstances.
"I wish I could've gotten the opportunity for more interaction with residents, but due to COVID that was very limited and a challenge due to masks, gowns, gloves, and face shields." -Audrey Rinker
"My experience was amazing! I loved the class and it helped me learn more things into the medical field I didn't know about and it was fun working with them as well." -Ashley Lewis