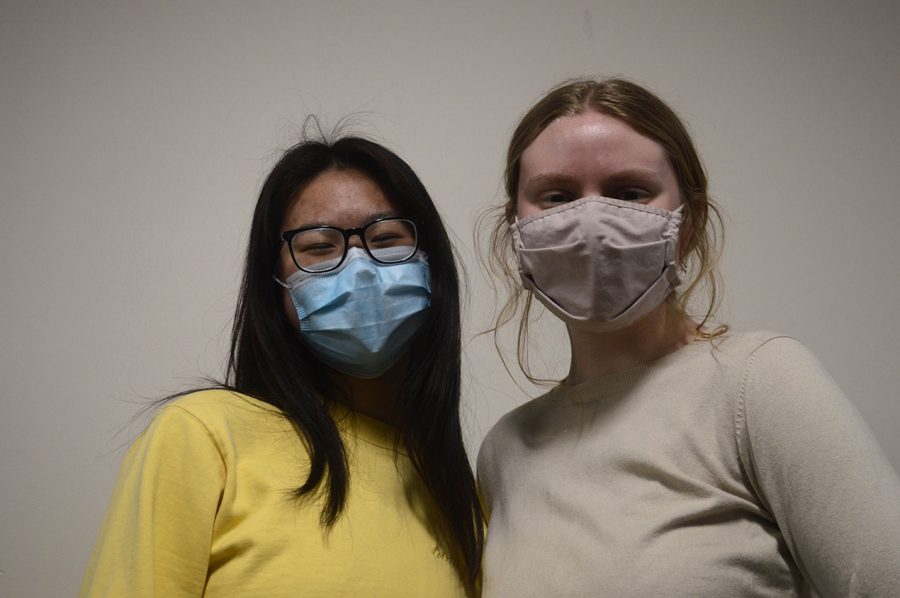 Kendall Reynolds
Periods. This word is enough to silence a room and leave people feeling uncomfortable. Just like many other high schools around the country, this is not something openly talked about at Noblesville High School.
Nicole Liu is a sophomore at Noblesville High School who is seeking a way to facilitate conversation. Liu started Aunt Cici's, a nonprofit organization at Noblesville with the hope that it would help provide a safer environment for girls and help them flourish, along with spreading awareness about menstruation and other women's health issues.
"I felt that periods are something which are kind of like a secret that nobody really talks about. By starting this club, hopefully the stigma around them fades away a little bit," said Liu. "Some girls, especially younger ones and ones who don't really have a female figure in their life to help them navigate the whole process, can rely on Aunt Cici's for guidance."
By creating Aunt Cici's, Liu hopes to address a wide range of issues pertaining to women, such as body image and education. One specific issue she hopes to bring to light is what is known as 'period poverty,' a situation where people may not be able to afford or have access to menstruation items such as pads and tampons. 
"Aunt Cici's will provide free subscription boxes to women in need that includes necessities such as menstrual products and soap and items such as makeup to allow these women to feel beautiful," Lui said. "As well as providing bundles for underprivileged women, we will also form a center where women can get access to more products if they need it, and we are also hoping to also launch style boxes using donated clothing."
The idea to start the nonprofit came from one of Liu's own personal experiences. 
 "I struggled with body image issues, so I felt that by starting some type of club or organization, I could help other girls who have the same issues. We want to create a safe environment where not just girls, but also boys can talk about this stuff," said Liu. 
Ellie Payne is a sophomore at Noblesville High School who serves as the vice president of the Noblesville High School chapter of Aunt Cici's and also serves as a cofounder of the nonprofit. Payne and Liu met in their sophomore English class, where they bonded over school and eventually started to form the idea of Aunt Cici's. 
"Our school, even though it offers a variety of classes and opportunities, lacks a diverse selection of clubs. More specifically, it doesn't really have a club which speaks only to the female population at our school. I guess the idea just started from there," Payne said. "Nicole and I were just walking together one day after English class when Nicole brought up a video she saw online about an organization called 'Days for Girls.' Initially, we wanted to start a chapter of that, but we realized the process would take a while, and we wanted to be able to talk about a wider range of topics. So, we founded Aunt Cici's." 
Days for Girls is an organization that attempts to deal with period poverty in different parts of the world, and Liu's original idea was to create a branch of Days for Girls locally. However, this process became rather long, and very complicated.
This created setbacks for Liu, who loved the idea of starting a Days for Girls chapter at the school. But, it wasn't long before she and Payne were able to bounce back and create something they felt was new and better suited for their needs. Unfortunately, this caused struggles within the leadership which was put together for the planned Days for Girls club. Some of the leaders were skeptical of starting a nonprofit. Payne describes that Liu really wanted to make it work.
"She really is passionate about the organization. She does a lot of other things, so I know that she didn't start the club just for the accolades. Her reasoning behind starting the nonprofit is personal and genuine," said Payne. "We are also in the process of getting the documentation needed for a nonprofit in the state, so it's legit." 
Through a network of friends and acquaintances, Liu and Payne have managed to recruit many people to join their Noblesville High School chapter of Aunt Cici's, called Noblesville Peonies. Club member and sophomore Jillian Cooke has high expectations for the club.
"I hope this club provides a positive space for girls at our school where we can make friends while doing good in the community," Cooke said. 
In order to officially start the chapter of Aunt Cici's at the school, Liu and Payne had to find a sponsor. Spanish teacher Adrienne Miller was chosen for the purpose. 
"She's a really kind person and is always willing to help her students with anything," said Liu. 
Miller feels good about her decision to sponsor the Noblesville Peonies. 
"It was inspiring to hear how Nicole and her friends wanted to help people, that they would go to such lengths to figure out how to serve others. I wanted to support and encourage them in that," Miller said.
Miller, like Liu and Payne, believes that the nonprofit will help out women across the community and make a real impact.
 "Anytime you are able to meet a true need, to truly help someone else, we never know how those kind and loving deeds can make a difference," said Miller. 'Even if one young woman's life is impacted, even if one of our students involved in the group is encouraged by serving others, that impact on one student alone makes a difference."
Liu and Payne both hope to grow and expand Aunt Cici's into many different high schools in the county and state over the years. 
Liu said, "This is really important to us. We are committed to this and we hope that it can really make a big impact on our community."
For more information or to donate to the Aunt Cici's nonprofit: https://linktr.ee/auntciciswomensalliance