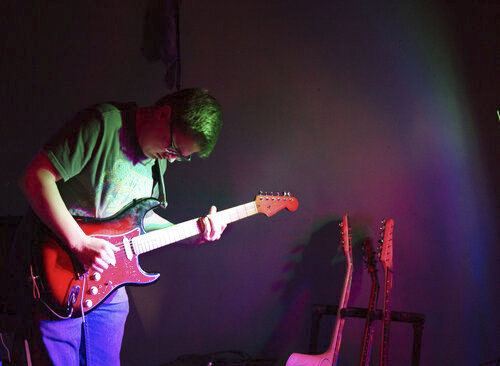 Did he just play an "H?" As the guitar player for  Jazz One, the Black and Gold Band, and the funk band Indy Gorgeous Club, senior Drew Matthews often leaves audiences wondering if the surreal sounds they just heard were even possible. As a result, his last year at NHS has been filled with complex jazz charts, early mornings, late nights, and standing ovations.
Throughout his life, Matthews has been drawn to the guitar, but it wasn't until middle school that he began taking lessons. Matthews's passion for music as a young teen fueled his determination to build his current musical skill set.
"I decided to take a new risk and joined a program called 'School of Rock.' It instantly pushed me into the world of performing onstage, which made me want to play to an even higher degree of excellence," Matthews said.
While picking up any instrument isn't easy, Matthews says the logic behind the guitar came naturally to Matthews.
"Guitar makes a lot of sense to my brain because stringed instruments are pattern based instruments," Matthews said. "There is less guesswork for intonation and finger placement."
Around the same time, Matthews was also participating in the jazz program at Noblesville East Middle School. He quickly developed a passion for that community, which helped push him to the Essentially Ellington contest in New York, a jazz festival that showcases the top 15 jazz bands in the nation.
"As of right now, my best memory from jazz band is Essentially Ellington …. But before that, it was the Gatlinburg trip that NEMS allowed us to go on in 8th grade, because it was the first big trip that I had taken away from my parents, and it was spent with people that I was fortunate enough to go to Ellington with later on," Matthews said.
One person who traveled on both the Gatlinburg and Essentially Ellington trips with Matthews is baritone saxophone player Nick Ok. The two are longtime friends.
"I have known Drew since third grade, and even then, he was still crazy about guitar," Ok said.
Dan Field, another jazz band member, is also a close friend of Matthews. Field has admired Matthew's skill and determination throughout their time working together.
"He knows so much about music and spends so much time perfecting the piece he is working on," Field said. "Drew is one of my best friends, and I'm glad I got to meet him way back in middle school."
In high school, Matthews worked his way up to Jazz One. He attended the competition Essentially Ellington with the group this spring. Jazz One was one of five bands returning from last year, making them one of the top jazz bands in North America two years in a row.
"Essentially Ellington was one of the … most amazing closes to my musical involvement with the school that I could have asked for," Matthews said.
Bethany Robinson, the Jazz One director, considers Matthews's contribution to the group to be vital.
"He's grown exponentially each year of high school, played outside the classroom in different bands, and encouraged other students along the way who happened to be younger than he was," Robinson said. "It's been so cool to see the joy that he has when the band is playing well."
Matthews also makes appearances at NHS basketball games and other school-related events with the Black and Gold Band.
"I really enjoy the way Drew plays," said Jay Jasper, who teaches guitar at NHS and plays in the Black and Gold Band with Matthews. "I really enjoy his jazz chops, but I'm also a big fan of jam band music like Phish and the Grateful Dead, and he's really capable in that style as well. His ability as a rock guitarist has been a real asset in the Black and Gold Band."
Outside of school, Matthews can be found playing locally in the band Indy Gorgeous Club (IGC). While the group started as four friends jamming late 2018, it later became a local sensation, playing gigs all around Hamilton County.
"My friend Caleb Beik [from School of Rock] asked me if I wanted to join a band with him and another friend of mine, Braeden Janes. I instantly accepted because I'd never been in my own band before, and it was an awesome offer," Matthews said.
From there, the band grew to include more NHS students.
"[Matthews] invited me to join IGC freshman year and that's how we really became friends," said bass player Jay Thornbury.
Sadly, as Matthews's senior year comes to a close, so will his time with IGC and the jazz program.
"I will continue playing post-graduation, but I'll have to find a new band because I am committed to UNC Asheville as an atmospheric science major," Matthews said.
However, Matthews plans to look for new opportunities in North Carolina that will help him improve as a college musician.
"I chose Asheville because there is so much music happening all the time down there, and it is predicted to be the next 'music city.' I have no idea what is to come for me in Asheville, but I cannot wait to see where it takes me," Matthews said.
Wherever Matthews's post-graduation journey takes him, he says his experiences playing music locally will continue to shape his future.
"Music is an extremely involved way of life," Matthews said. "Music has given me friends, experiences, stress, and hope that nothing else can in this world. From making me feel included, to making me isolate and practice, it has a lot to teach about the world, and unfortunately it has so much to teach that a lifetime isn't enough to hear all of it. And that's okay."