Cameras and comedy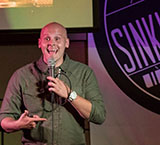 Hang on for a minute...we're trying to find some more stories you might like.
As a fourth-grader, Josh Cecil eagerly awaited 4 p.m.
     After riding the bus home and settling into the lazy freedom that is time after school, the clock would reach that highly-anticipated hour, the time of Short Attention Span Theater, a clip show compiling short segments of stand-up comedy and movies throughout the early 90s. For an hour he would watch, "transfixed" by the "brilliant and hilarious" performers on the television screen. There, he said, is where his love of comedy bloomed. Now, as a 38-year-old teacher and two-time NHS Chili Cook-Off champ, Cecil enjoys taking the stage himself.
     "Obviously, if you're a comedian, you want to make people laugh, but I think that the laughter is just an extension of connecting with the audience," he said. "Being in a room full of people all laughing at the same thing is a pretty unique situation, and to be the one that [causes] that laughter is really cool."
     All his life, Cecil has shared a bond with humor. As a teenager, he was voted class clown of Washington High School's class of 1997, which he regards as a "point of pride." In June of 2016, he performed his first stand-up routine at Barley Island. Later, he participated in a comedy competition at Morty's Comedy Joint, a comedy club in downtown Indianapolis, but his experience wasn't all kicks and giggles.
     "I've never felt more anxiety in my life about doing something that I felt when I did those two shows for that competition," he said. "Like, I had physical symptoms. The whole week leading up to it, I couldn't catch my breath. I thought I was having a heart attack several different times."
     Still, for the same rush that drove him to try bungee jumping and skydiving, he enjoyed it.
     "I don't [entirely] know why I like [stand-up]," he said. "I like the response of the crowd. You get immediate validation. It's cool to be up on stage, to hold people's attention and get them to respond to something you make up."
     Influenced by the likes of Gary Gulman, Mike Birbiglia, and John Mulaney, Cecil draws inspiration for his comedy from his diverse life experiences, some of which include living and stage lighting in Las Vegas and working in a restaurant before becoming a teacher.
     "He's had his foot in a lot of different camps, [and he's] had a lot of different experiences," English teacher John McKinney said. "He has four kids, and any time you're a parent, you have to have a sense of humor to keep you somewhat sane. He finds a lot of humor in real experiences."
     The crazy moments of having a young family, Cecil said, fuel much of his material.
     "Before I had my four children, I never realized how deeply and fiercely I could love something as much as I love Netflix and avoiding my family," Cecil said, later adding, "[They're] more important to me than any career."
     Cecil also utilizes comedy as an instructor, teaching Film Literature, English and Mass Media. As a student in Cecil's Film Literature and Mass Media classes, sophomore Matthew Borders is very familiar with Cecil's humorous, hands-on teaching style.
     "He tries to keep it [interesting]," Borders said. "When he talks to his students, he kind of jokes around with them. It makes [them] excited to go to his classroom every day."
     Cecil also enjoys cooking, rock-climbing, and exercising. In his free time, he coaches Noblesville's Quiz Bowl team and runs a workout group for teachers.
     "He has a lot of different interests and is willing to explore," McKinney said. "He's willing to try something, he's willing to take a risk, he's willing to [fail]. It seems like a lot of his experiences are simply him trying something he's curious about. It's a pretty admirable quality to have— that willingness to chase that curiosity into something more concrete."
     Through his comedy, Cecil aims to craft a story, connect with the audience, and conquer his nerves. He hopes that his students are also inspired to take risks in their own lives.
     "[The fear] was part of the reason I did stand-up," Cecil said. "I wanted to do something that scared me. That's what I wish students would do more: things that scare them with the risk of failure."
About the Writer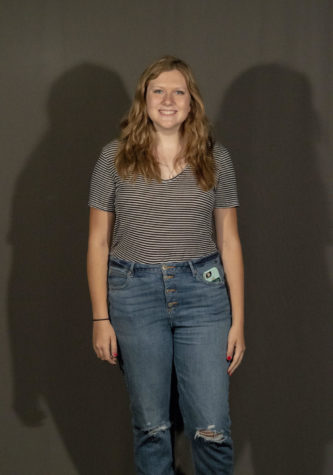 Abby Hanson, Co-Managing Editor
Sammy Snyder
When she's not having a panic attack about college applications, you can probably find Abby Hanson, the Mill Stream's web managing editor,...