Look what you made me do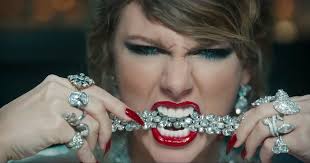 Hang on for a minute...we're trying to find some more stories you might like.
    A fair warning to anyone who likes Taylor Swift: don't read this. You won't like it.
    Taylor Swift has turned from a creative, clever, and hard-working songwriter into a lazy pop star coasting off the fame she has already acquired.
    Her newest single, "Look What You Made Me Do," is a prime example of her dullness. Go listen to that song, open your email, type in the email address by the by-line of this page, and explain the musical complexity of this song to me. There isn't a melody, not even a bassline.
    While musical complexity is not the only indicator of what I consider to be a good song, it definitely plays a role. "Look What You Made Me Do," however, lacks the one thing that most songs should consist of, which is making the songwriter vulnerable in some way. There is no purpose to songwriting if an artist doesn't open themselves up in a way that words could never accomplish on their own. The most recent addition to the Taylor Swift anthology severely lacks in depth in every way possible and is as far away from genuine as a song can be.
    Swift is also one of the people in the music industry who excels at beating the dead horse. Finding a  Swift song that isn't about a failed relationship is a rare diamond in the rough. She uses her past relationships as songwriting material, and as a way to make millions of dollars. Yes, life experience plays a part in songwriting, but when songs on different albums consists of the same concepts, the music just turns into empty words with synthetic drums to back them up.
    Beyond just general laziness and lack of a genuine personality, Swift is also unforgiving and cold. If you didn't already know, at the 2009 MTV Video Music Awards (VMA's), history was made when rapper Kanye West interrupted Swift's acceptance speech for Best Female Video. Since then, the two artists have been engaged in a seemingly endless and purposeless battle.
    While I am not defending, nor justifying West's actions at the VMA's, or any of the ways he has insulted and degraded Taylor Swift since then, I am condemning the way that Swift has chosen to deal with these confrontations. Most well-adjusted human beings would choose to forgive and forget. Swift, however has chosen to face this conflict with even more conflict. She has dissed Kanye on a national stage at the 2016 Grammy Awards (when she undeservedly won Album of the Year) and has continued to fuel a fire that should have ended in 2009.
    Swift has taken the fame she acquired when she was still hard-working and has coasted off that inertia to sustain her career in the music industry.
This story was published in Issue 1, Volume 48 of the Mill Stream. Published alongside it was a companion editorial by opinions editor Abby Hanson. Read her (better) story here.