A Full Plate
Junior Ashlyn Tucker does more in one day than many students do in a week
Imagine finally getting home after a long day of school. Next comes homework, soccer practice, which is followed by sessions of CrossFit and Olympic Weight lifting. And you still need to find time to eat dinner with your family, study, shower, and pack your bag for the next day. Oh, and not to mention get 7-8 hours of sleep too. If you think this is impossible, then you probably haven't met Ashlyn Tucker.
     Tucker is an NHS junior and in addition to leading her class academically, she plays varsity soccer and is involved in a variety of  clubs and other activities.
     "In school, I'm in Sociology Club and Best Buddies," Tucker said. "But I also play travel soccer with Indiana Fire juniors in the Midwest regional league, and in addition to that, I do CrossFit. It's something I'm really passionate about,"
     Additionally, Tucker plays center and midfield for NHS varsity soccer team. She's been playing with the Miller squad for two years, but she's had a passion for soccer since a very young age.
     "It's impacted my life in such a huge way. I've played since I was four," Tucker said. "I remember sitting on the sidelines at my older sisters games before I even started playing I was telling my dad, 'This is my favorite sport'."
     Besides being something she's passionate about, Tucker says soccer has also helped her socially and mentally.
     "It's changed who I am. Socially, it's built a lot of group skills and character. I work with teams and it's also pushed me mentally. It's helped establish discipline," Tucker said.
     In addition to playing varsity and travel soccer, CrossFit, Best Buddies, and Sociology Club, Tucker is also in DECA, or Distributive Education Clubs of America, a club that
prepares students across the nation to be entrepreneurs.
     "At the DECA district competition, I received highest test score for Noblesville, highest test score in sports and entertainment marketing, third in role play and then won overall for sports entertainment marketing. I will compete at state for DECA in March," Tucker said.
     With a 4.374 GPA, Tucker is looking into plenty of colleges.
     "I'm looking to go out of state, I'm not sure yet. I really like Colorado. I want to go west and get out of my comfort zone and expand," Tucker said.
     Because she isn't sure which college she wants to attend, Tucker plans to submit admissions for multiple colleges.
     "I'm looking at a couple of Ivy Leagues to apply to as 'reach schools,' but I want to have some schools that I'm pretty confident that I'll get into," Tucker said.
     Between sports, school, and clubs, Tucker says she is often limited on free time, but claims she doesn't mind being busy.
     "The key is time management and also priorities. There's a quote that I love and it's: 'If it's important to you than you'll find a way, if not you'll find an excuse,' I do have to make a lot of sacrifices but I put soccer and school and my athletics first and that's just time management."
About the Writer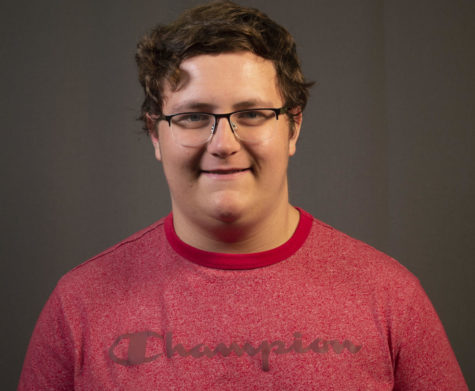 James Simons, Co-Features Editor


James Simons is a senior who's in his third year on the staff. He was born in New York and moved to Noblesville in 2015. He enjoys fishing, basketball...