Meador takes on the 'ville
Noblesville is excited to see what Meador has to offer.
It's July and the strength and conditioning position at Noblesville High School is open. Only one person can fill it. Stressed out and pressed for time, the interview committee begins the hunt to find the most fitting coach. In walks James Meador, former football player and an experienced collegiate weights coach.
James Meador, the new strength and conditioning coach at Noblesville High School, has shared his plans for the weights students with other coaches and teachers in the athletic field including Donna Buckley, the coach of girls varsity basketball team. Buckley said she is excited for what Meador is doing in the lives of Noblesville High School athletes. 
"He's really working with the kids on being fit, gaining speed, getting stronger, and being really committed on becoming the best possible versions of themselves in the weight room," Buckley said.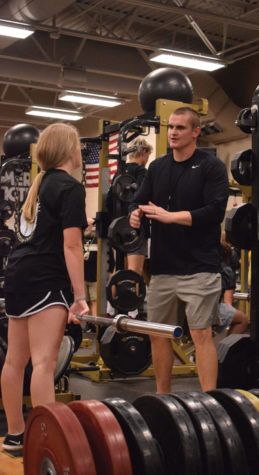 However, Buckley is just getting to know Meador and his whole plan for Noblesville High School athletes. Along with Buckley's excitement for Coach Meador, Leah Wooldridge, the Athletic Director of Noblesville High School voiced a positive input on the topic as well. 
"I think he's awesome and he comes with a diverse background," said Wooldridge, "He played college football for the University of Cincinnati and then he coached the football program at the University of Tennessee and later went to Purdue University to coach both the cheerleading and football programs."
Coach Meador played basketball and football in high school before heading to Cincinnati. 
"It was a lot of fun," said Meador, " It was a lot of pressure but I met a lot of really good players."
Going into his sixth year of coaching, Meador is excited for his newest transition to Noblesville High School. However, a question that could be surfacing in minds is why did he choose Noblesville Schools after coaching college league athletes?
"Noblesville is a beautiful area and I'm ready to settle down, plant in some roots," Meador said. 
Although, one would suspect the amount of stress that would result in moving from a college sports program to coaching multiple students involved in high school weights program. Buckley, however, has the confidence that Meador will be able to transition his coaching tactics in the college environment to the high school climate.
"He worked with a lot of different kids while coaching in a college scene," Buckley said, "and it's fun to see him bring that down to the high school level."