Moving forward: Last March, NHS teacher Kevin Cole was diagnosed with colon cancer
Last March, NHS teacher Kevin Cole was diagnosed with colon cancer
Honest. Reliable. Hardworking. Humorous. Dependable. Any one of these words can be used to describe NHS Spanish teacher Kevin Cole. 
On March 20, Cole was diagnosed with colon cancer. While Cole has had surgery to remove his softball-sized tumor, he still has several months of chemotherapy ahead of him. 
"I won't forget [the day I was diagnosed]," Cole said, "It was a routine colonoscopy, it was supposed to be in the fall, but my doctor had moved it up because there were things that worried him. So he could have saved my life."
When Cole heard that he had colon cancer, he couldn't help but think of his father and grandfather who had dealt with the disease in the past.
"It was a punch in the gut. I wouldn't say I was totally surprised. I kind of felt like maybe I would follow the path that my father did because of genetics," Cole said.
While struggling to come to terms with his diagnosis, the next step for Cole was perhaps more difficult: trying to find the right words to tell his loved ones that he has a disease infamous for it's severity.
"[The cancer diagnosis] was tough to swallow, tough to tell my mom because she had to watch my dad suffer. It was tough to tell my wife and kids," Cole said, "It was the worst telling my kids because they had seen both grandfathers deal with it."
Consequently, Alison Cole, Kevin Cole's wife and fellow teacher at Noblesville East Middle School found the new information shocking.
"It was awful of course, it was unknown, the doctor just said: 'I know we have to run some more tests, but I'm sure.' So it was upsetting," Allison Cole said. "Immediately it was like 'how do we tell our moms, how do we tell our kids?'"
After his surgery, Kevin Cole has returned to teaching but is still undergoing chemotherapy treatment.
"It's tough doing this job because you have to have emotions everyday, you have to be interesting. There's some days I'm just dead tired but I just try to push through," Cole said.
"
How do we tell our moms? How do we tell our kids?"
— Alison Cole
The diagnosis of Kevin Cole was tough for not only his family, but also his students, who made sure to go out of their way to show him how much they care for him.    
"The kids were amazing the kids last year writing me cards and things… I kept them all they are all under my bed, I kept everything that was written I go back and look at them sometimes," Cole said.
Señor Cole never fails to come to the classroom with a positive attitude and a smile on his face, according to his students.
"His students can tell he's passionate about the language and culture and his attitude is infectious," Spanish student Makayla Cripe said.
Even before his diagnosis, Cole was far from the average teacher. Students say he goes above and beyond to teach them a different language and ignites their passion to learn.
"In Spanish Literature, many of the stories are very difficult to understand, but he always helps us by having us listen to it, having us watch a short film of it, having us write about it, or even acting it out himself for us," Cripe said.
Although Cole is an above average teacher who ignites passion in the classroom, he wasn't always set on teaching.
"[While in college] I talked to some counselors and took some classes about who I am and what I'm supposed to be and everything pointed toward teaching," Cole said. "And I'm glad they did because I've done this for 20 years and I really love it."
Cole has enjoyed his time at NHS, and at a time when many teachers are leaving to teach elsewhere for better pay, Cole couldn't imagine teaching anywhere else.
"I don't want to leave here," Cole said, "I know people like to leave to get more money at different places that's a big thing right now. But you have to be careful what you wish for. This situation is pretty good."
About the Contributors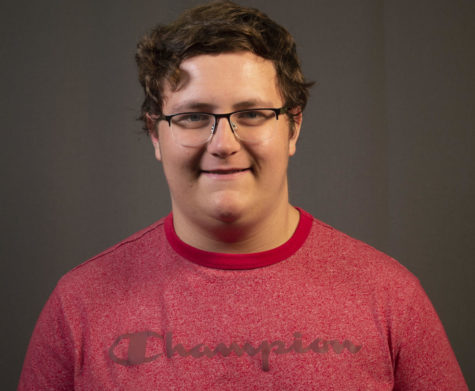 James Simons, Co-Features Editor


James Simons is a senior who's in his third year on the staff. He was born in New York and moved to Noblesville in 2015. He enjoys fishing, basketball...
Mary Sebbas, Photo Editor
Mary Sebbas is a Senior at Noblesville High School and has been attending Noblesville Schools her whole life. She participates in Unified Track, Cru, NHS...