The biggest losers on the internet: Companies are damaging their reputations online
Companies are damaging their reputations online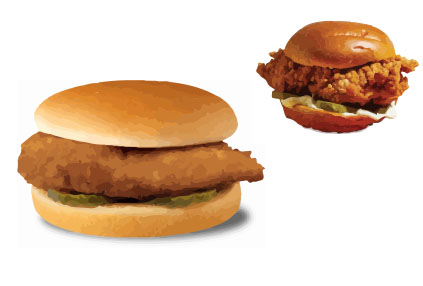 August 12, 2019: It begins.
The Great Chicken Sandwich Wars featured two major chicken powers fighting for control over the holy grail, or Holy Chicken Sandwich, if you will. With customers caught in the crossfire, all bets were off. Burger King, Shake Shack, Wendy's, Starbucks, and even Yelp, along with many more, fought amongst each other as lesser chicken powers. As Popeye's and Chick Fil-A warred for the public's favor, the fighting ceased for a moment; Popeye's Chicken Sandwich had run out. Even yet, the victor of the Great Chicken Sandwich Wars remains hazy.
As major corporate entities bicker amongst each other, we often question who wins. Arguably, no one wins (excluding Wendy's). These massive corporate companies often look like fools, as the average online person is forced to endure their tantrums. They throw subtle insults and constantly argue, not seeming to care about the image it impresses upon their larger brand.
While some companies do comedic insults better than others, most fail entirely at their attempts at comedy and instead display a barbaric attempt at getting promotion on the internet. The internet is a prime place for businesses to grow, develop, and promote their brands, but there is a certain professionalism, among other things, that these enormous corporations lack. As large as these companies are, one would think they have a better sense of professionalism than the average business, but somehow it is the opposite.
A look at the Great Chicken Sandwich Wars shows a multitude of public entities desperately trying to throw their names out there, hoping they will be seen and their sales will go up. While the Great Chicken Sandwich Wars may have boosted short-term sales for several restaurants, overall it will have a negative impact on the appearance of their brands. When one looks at the social media use of companies as a whole you might find that companies are, in fact, the biggest losers on the internet. In a situation such as the Great Chicken Sandwich Wars, while the companies receive their temporary financial benefits, they look like fools. Even Yelp tried to promote themselves using the Great Chicken Sandwich Wars, and Yelp doesn't even have food, let alone chicken. The Great Chicken Sandwich Wars may have never had a true victor. The Holy Chicken Sandwich, perhaps, won't be won over social media. It won't be won in a barbaric argument. It won't be won, perhaps, by the biggest losers on the internet.