Not your average princess: Senior Leah Spurlock has many magical activities to fill her royal days
Senior Leah Spurlock has many magical activities to fill her royal days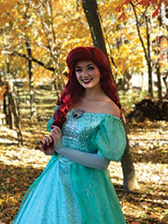 Senior Leah Spurlock is a girl of many talents. At school, she's a member of NHS show choir group, Singers. Leah is also involved in the theatre department, and is currently in the school's production of "Beauty and the Beast." And when she's not rocking it on stage, she's making children's dreams come true.
Dressing up is commonly seen as something for children and Halloween. Maybe it's for a party or an event of some sort. But what about a job? Spurlock works as a Disney Party Princess. Dressing up for young children's birthday celebrations every weekend is normal for her job. When she's not dancing for show choir or singing in theatre, she's making little kids' wishes come to life. 
"One of the best feelings in the world to me is watching a child's dreams come true," Spurlock said.
Childhood fantasies often fade through adolescence, but Spurlock's mission is to fulfill those dreams of princesses and fairytales before children loose their innocent admiration.
"Keeping the magic alive is very important to me," Spurlock said.
But how has working at the company Your Party Princess for 7 months affected Spurlock? It's now developed into more than just a magical side hobby. It's turned into a love for a Disney-filled lifestyle. 
"I'm very passionate about the values and messages Disney focuses on and sends out," Spurlock said.
Show choir usually conjures up images of the basics that make up the activity: singing, dancing, practice, and uniforms. But what is often overlooked is the rest of the structure in complicated activity.  Seeing through to the best parts of show choir is what keeps Spurlock in it.
"Show choir is incredibly fun and most of my best friends have come out of it," Spurlock says.  After three years of being in NHS Singers, a fair amount of her life revolves around her show choir schedule. For many people, it would be difficult for them to balance the schedule of choir, theatre, a job, and school work. But Spurlock is able to manage it all, thanks to the help of her teachers.
"Luckily the teachers and directors of my activities are closely tied and a lot of other students do the same things I do, so they are used to sharing and compromising time," Spurlock said.
While many would find it hard to balance a social life with all of these after-school activities, it's easy for Spurlock.
"To be honest, my personal life is part of my activities," Spurlock said. "All of my friends are involved in the same things, so when I'm at rehearsal, I'm also hanging out with friends."
Spurlock's busy schedule would drain most people, but not her. For her, the activities, and her love for them, help get her through the worst fatigue.
"It's a lot of physical and emotional endurance," Spurlock said, "but the love and passion I have for it always pull me through."
Spurlock's love for music started at a young age. While most kids were playing around, Spurlock took to the stage.
"I've always had a passion for music – and once I got over my childhood stage fright – performing. I got my first taste of theatre in fifth grade and never looked back," Spurlock said.
Performing has been a large part of Spurlock's life, whether dancing in show choir, acting as a princess, or singing onstage in "Beauty and the Beast."
"Show choir is incredibly fun and most of my best friends have come out of it, but after high school the
opportunities in show choir stop," Spurlock said, "Theatre extends far beyond high school, and I see it staying in my life for a long time."
For lots of students, theatre is a hobby. Most only participate during high school. However, Spurlock isn't planning on losing her passion for theatre when she graduates. 
"I never want music and performing to leave my life," Spurlock said, "and I'm even considering it as a career."