Life after a stroke: Senior Griffin Smith stays strong in the face of adversity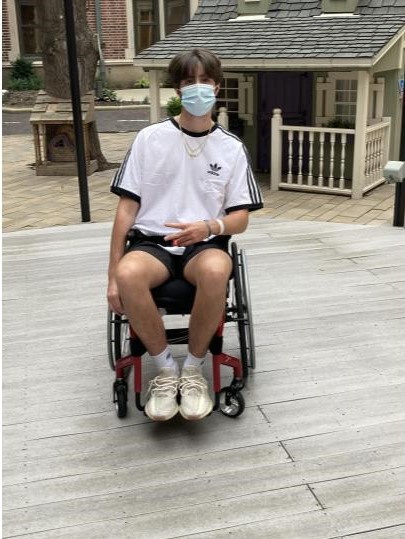 What started as a sunny summer afternoon soon turned dark. "I was playing a backyard game with my brother, and I twisted my back a little funny. I went to go sit down because it started to hurt, and I stood up and said there's something really wrong," Smith said. 
Later, when taken to the hospital, Smith was tested and informed a few days later that he had experienced a rare spinal stroke. A spinal stroke occurs when the supply of blood to the spinal cord is reduced or blocked completely. Without the oxygen and nutrients from the blood supply, the tissues of the spinal cord may be damaged and unable to send nerve impulses to the rest of your body.
"[The doctors] said that I'd never be 100% again, and I'd probably be in a wheelchair for the rest of my life," Smith said. When given this type of news, most people would be devastated; however, Smith became more determined. 
Smith is working hard in rehab, "determined to prove them wrong." According to his doctors, only 10% of people who experience the same kind of spinal stroke as Smith regain any motor control. 
"When they first said that I thought, 'You guys are lying. I'm not going to believe you guys until it actually happens.'" Smith said.
Smith has missed being able to hang out with his friends the most, when dealing with the aftermath of his injury. Currently, Smith is paralyzed and in physical therapy in hopes of gaining back some control of his lower body.
"I'm a big 'outdoor kid'. I love to go hang out with my friends and be able to play sports with them," Smith said. 
All of his friends and family are right behind him with their support. 
"When our good buddy Steve Whitehead started the Go-Fund-Me and everyone started donating, I was so surprised," Smith said. "The whole town of Noblesville was there behind my back praying for me and donating, and it just makes me feel happy. It keeps me going that extra mile everyday." 
A Go-Fund-Me was made to help Griffin and his family with any costs that may arise during this time. https://www.gofundme.com/f/griffin-smith-family