The pawfect fit
Hang on for a minute...we're trying to find some more stories you might like.
In some homes in Japan, students are given Kit Kats before difficult exams because of the similarity of the candy's name to "Kitto Katsu", a Japanese expression meaning "victory is certain." As NHS goes through the grueling process of final exams, sophomore Alyssa Barnes also enjoys Kitto Katsu in a drastically different —but just as sweet— form.
Last April, the Barnes family got a new addition: a four-pound Alaskan klee kai puppy they dubbed "Kitto Katsu", or "Kitto" for short. To capture their experiences with training Kitto and to educate others about dog ownership, the Barnes family used to WordPress to create a website fittingly called "Family Dog Blog."
"We had been looking into dogs for a while because we had never had a dog in the family before, but for a while it was like, 'you don't want a big dog with small kids,' and then 'we have ferrets and other pets [instead],'" NHS alum Jessica Barnes, Alyssa's sister, said. "[Finally] we decided, 'We do have the money saved to get a dog. Which dog is best for us?' We were researching it for months."
Out of this research came the Blog, a resource for prospective and current dog owners or those considering the Alaskan klee kai, a small breed of dog resembling the ever-popular husky.
"The most important [goal] of Family Dog Blog is helping [people] find the dog that's right for them. It's about proper socializing and [care]," Jessica Barnes said.
After more than a year caring for Kitto, the Barnes family remains confident that they indeed found the right dog for them.
"Kitto is the perfect fit for our family," Alyssa Barnes said.
About the Writer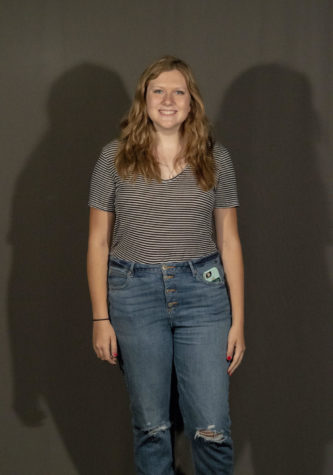 Abby Hanson, Co-Managing Editor
Sammy Snyder
When she's not having a panic attack about college applications, you can probably find Abby Hanson, the Mill Stream's web managing editor,...