Art in motion
Live in action, junior Ella McCool rewrites the standard definition of art
Hang on for a minute...we're trying to find some more stories you might like.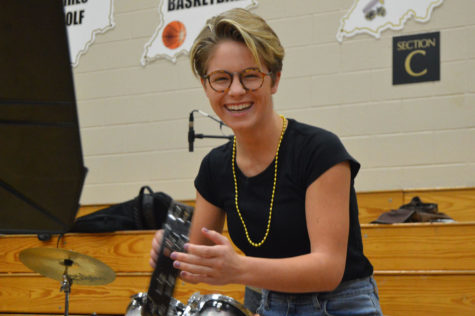 Too often people associate art with only something tangible, something drawn by the hands and framed in homes. But really, art can be considered in many different forms and doesn't necessarily fit into a particular box. For NHS junior Ella McCool, art is the process of turning nothing into something and watching it come to life.
McCool is not your average artist you'd see featured in a museum or hidden behind paint brushes and pencils. Rather, she is a singer and actress who creates an enchanting experience in the moment. The prized moments McCool delivers leave an impression on her audience through the power of her voice, harmony, and performance.
For those searching for a creative outlet, the NHS music and theater arts department can provide just that. At NHS, McCool is involved in an assortment of programs, teams, and classes that further her creative nature. McCool's involvements include thespian troupe, this year's production of "Avenue Q", Noblesville varsity show choir (NHS Singers), the Black and Gold Band, and various theater arts classes.
"My number one is being a part of a group," said McCool. "We all want the same thing, to be as good as we can be, and that's just really important to all of us, so I think that's my top priority."
People may choose to be artistic on their own, and others may wish to share their passions and goals with the people they see everyday. Performers such as McCool and her peers put in great deals of work to improve and create shows, such as "Avenue Q," that encompass what they adore most.
"After school at 3 o'clock, I go on stage for "Avenue Q" and we run [the two] acts of the show, and then we go on a dinner break for about 45 minutes to an hour. Then we come back and we won't get done until about 9:30," said McCool. "So that's about to the extent of how long I'll be here. But it's all so worth it. It's so much fun."
The work required in developing a show imitates that of a part-time job, one that McCool has made a top priority. Her dedication and willingness to sacrifice time outside of school is a result of finding her infatuation with music at a young age.
"As soon as I started talking, I started singing. It just kind of grew from there- solo singing, to more classical theatre performing but also still hanging onto those roots of solo singing," McCool said.
     Anyone can catch McCool singing her heart out in the Black and Gold Band, where she sang songs like "Hotel California" by Eagles at the 2017 fall Mini Olympics. McCool remembers the mini Olympics as a time she was most nervous, since she performed right in front of her peers, people she wishes to impress. Although she said it is nerve-racking, McCool knows her bandmates are in the same position, which provides a sense of comfort. The stage may be intimidating, but McCool doesn't always feel overwhelmed.
"This is going to sound cheesy, but [being onstage] feels like I'm home. It feels like that's where I belong. When I go on the stage that's where I am most comfortable, and that's where I can almost show who I am and express who I am through that," McCool said.
Being onstage is a major aspect of McCool's life, and with that comes relationships formed backstage. All of the time spent working on choir shows, productions, and band gigs has allowed McCool to develop everlasting friendships with fellow members.
"Ella McCool is one of the hardest workers I've ever seen," said Elissa Mauldin, fellow thespian and singer. "She is always working to make everything as perfect
as possible and she has a joy for learning, especially in theatre production class. As a musician, she tries to help our choir reach success and carries a good portion of the weight as one of the awesome people in the alto section. She's happy when the group succeeds and makes the choir work when we start to tire, and she has a serious passion for music."
McCool's serious passion for music doesn't show signs of stopping any time soon. In fact, in the future she plans on sharing her love for music with people just like her– in a school setting, as a music teacher.
"I've only just known Ella for a semester, but she's already shown me a lot of musicality. She has a powerful voice and knows how to use it. Music comes very naturally to her and she's a strong leader in class. I know she aspires to be a teacher, and that type of personality is a great asset in the educational field," said co-Singers teacher, Kelsey Maxwell.
Though her plans for educating students are in the future, McCool is already inspiring students in terms of music and identity. Maintaining a sense of self is a cardinal rule of McCool's life, and she hopes that everyone can come to embrace who they are.
     "It's always important to stay true to yourself no matter who you're surrounded by," said McCool. "You don't need to be like everyone else to fit in."
As teenagers, high school can be a time to try and discover who exactly you are. Through the art of self expression and accepting attitude, McCool has made an impact on the lives of students in her class.
"[Ella] puts passion into everything she does. She inspires me daily to continue my journey with music. Ella is very talented but is incredibly humble about it, she encourages people with music even if she doesn't know them," junior Mackenzie Catlin said.
     For many students who dedicate a majority of their time to the arts, sharing their creations with others, tangible or not, is one of the best rewards– and support goes a long way.
"If students came to a choir concert and saw what we do, they would be blown away," said McCool. "It's an entertaining show, so it'd mean a lot to [the performers] and the art department if students came out and saw what we're about. They'd have no idea."