Putting the "ily" in family
Sisters Jenny Cosand and Stephanie Cosand strengthen their bond by playing rugby
Hang on for a minute...we're trying to find some more stories you might like.
    Like most sisters, sophomore Jenny Cosand and her little sister Stephanie often imagine tackling each other to release their anger. In fact, they do. On a field in front of a crowd of people including their friends and family.
    Fifth grader Stephanie Cosand and Jenny have been playing rugby for two years.
    "My coach graduated with my mom and I saw on the announcements that they were looking for girls and showed up to a practice and sorta got hooked," Jenny said. "[Stephanie's] coach also graduated with my mom and she found out that they were having a team and so she started."
    Noblesville holds a boys rugby team and a girls rugby team. Jenny plays for the high school girls team, Chaos, while Stephanie plays for the Noblesville youth rugby organization, team Beast.
    The Beast organization consists of two elementary and middle school level groups. Noblesville fields a fifth and sixth grade coed team as well as a seventh and eighth grade coed team. Although neither team plays against other schools, they scrimmage against each other nearly every practice.
    Stephanie is the only girl on her team.
    "I feel like I need to be faster and stronger [than the boys]," Stephanie said.
    "I am." She jokes.
    Both sisters agree that playing rugby together has strengthened their bond.
    "I think [rugby] really has brought me and Steph together because it makes it easier for us to practice together and not fight," Jenny said.
    Like many activities, the girls say rugby is an emotional outlet.
    "I used to have anger issues and it's a good place to get out my aggression," Jenny said. Stephanie agrees. "I like to tackle people," she said.
    Unfortunately, the fifth and sixth grade group didn't have enough kids to make a full team.
    "We didn't get enough people and I'm too small compared to the other guys to move up," Stephanie said.
    Even with bad news like this, Stephanie still has high hopes for the future. She plans on playing flag rugby until next year and then following Jenny's legacy throughout high school because she looks up to her.
    "[I like] watching people try to pull [Jenny] down but she just runs right through them," Stephanie said.
    Although it is only Jenny's second season playing rugby, her coach can see how her hard work has paid off.
    "Jenny played last season and we've got 12 rookies so our seniors and veteran players, just like Jenny, have been helpful to teach the new players," Coach Brent McCurdy said.
    Team Chaos has come a long way since the beginning of the season according to McCurdy.
    "[The girls] have been great as a team and they've really come together," McCurdy said. "They're in sync and they listen to each other."
    Jenny says rugby helped ease her way into high school.
    "Rugby is one of my favorite things I've made so many friends and it's a great place for me to like get out of my head for a while," Jenny said.
    Both sisters agree that playing rugby together has brought them closer than ever before.
    "On a scale of one to ten, I love Jenny at a ten-million," Stephanie said with a smile.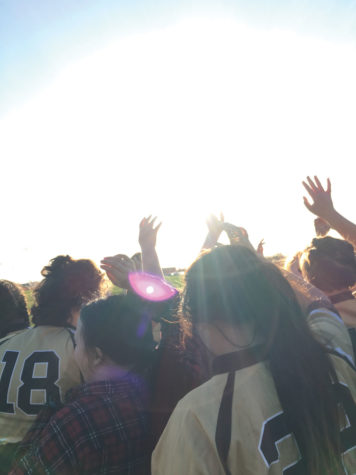 Photo by D. Elliott