Won't you be my neighbor?
This new documentary spreads Fred Roger's teachings four decades later

Among the many movies to have come out over the summer, one of the most unique just happened to be a documentary about the most unique person in children's TV: Fred Rogers.
Morgan Neville's new documentary 'Won't You Be My Neighbor?' has become a critic favorite and has recently taken the title for the highest grossing biographical documentary of all time. Giving its viewers a chance to look into the workings behind 'Mister Rogers' Neighborhood' and learn a little about themselves along the way.
Fred Rogers, or more commonly known as Mister Rogers, created the iconic children's television show, 'Mister Rogers' Neighborhood.' Airing for four decades, Mister Rogers acknowledged the wide range of feelings felt by children, such as anger, frustration, and deep sadness.
While my mom and I sat inside the theater and watched 'Won't You Be My Neighbor?,' I couldn't help but notice the four major lessons Rodgers was trying to teach throughout his life.
Rogers constantly reminded his audience that children have deep feelings, such as anger, frustration, and fear, just like adults. He wasn't afraid to dive head first into controversial topics like; death, war, and divorce. Rogers understood no person is too young to have feelings and he helped them understand these feelings and work through them. He was just trying to tell us that we should be listening to them and giving them the attention they deserve.
However, of all the things Mister Rogers taught his audience, the most important to him was making children feel valued, loved, and appreciated for simply being themselves.
Growing up, it's easy to feel left out or unwanted. Just to have that extra voice say, "you're enough" or "you matter" can help, it can change someone's life for the better. Rogers taught his audience that children need and deserve our attention, for they are human and have deep feelings just like the rest of us.
Finally, the last and, to me, most important lesson of all: Love your neighbor, love yourself.
One of the show's characters of color, Officer Clemons, was a black police officer who lived nearby. In the 60s, segregation and racism plagued our country. But, Rogers and Clemons had a genuine friendship both on and off screen. Not to mention the fact that Clemons was a gay man, however, sadly closeted for a long time. He was still embraced by Rogers as a true friend. Love your neighbors for who they are and look past what they look like, then they will do the same for you. Resulting in trust, respect, and friendship.
However, as I continue to reflect on what this documentary taught me, I think of how it made my mom and others sitting around me cry, and to be quite honest if I hadn't had been so focused on taking notes I probably would've cried too. This documentary was heartwarming, timeless, humorous, and eye-opening all at the same time.
Since watching this movie whenever I watch the news and see distasteful events unfold, all I can ask myself is "What would this world be like if there were more Mister Rogers? How might it be different if we all understood how and why we act the way we act?" Maybe we could all coexist and limit the amount of hatred and pain in the world.
About the Contributor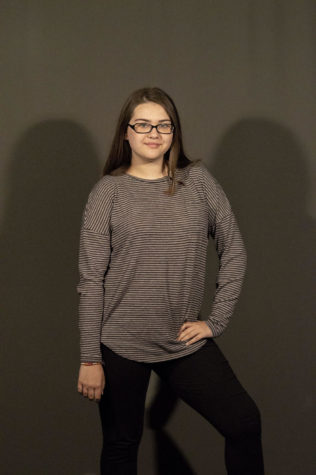 Victoria Flanagin, Design Editor
Sammy Snyder
Victoria is currently a senior (boo) and is enjoying her third year on the Mill Stream staff (yay!). She enjoys big fluffy blankets and apple...