Unexpected beginnings
Seniors Isaac Francis and Jordan Carpenter discuss their experiences of getting lead roles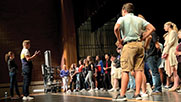 People muttering the same sentences over and over, sweaty palms and flipping through of seemingly endless highlighted pages – it's what you would expect while standing in line waiting for you name to be called back to give an audition. The anxieties filling your mind, knowing that even though you practiced for months, you may make just one mistake that ruins your chance of being casted. 
The first adaptation of Beauty and the Beast was released in 1991, and is now a popular production for Broadway and theatre organizations alike. Noblesville High School will be presenting the well known musical this November. The show has never been put on at NHS, and the cast members who have been selected to play the two main leads are new to the experience. 
"I've never been in a musical before, this is my first musical, which is why I'm just as nervous as I am excited that I landed the lead," Isaac Francis, the senior who was chosen to play Beast, said. 
Even though he has yet to be in a musical, let alone play a lead role, he is not completely new to being on stage. 
"I've done so many other kinds of performances…" Francis said, "…I did show choir in middle school and I've done show choir all in high school."
Francis performed in Know Your Role and The Crucible, two NHS productions that were during his junior year, but felt wary about being in a school musical. He said he spent  much of his summer preparing for auditions for Beauty and the Beast, and felt ready going into them. 
"I've always wanted to do [a musical], but every single time it was just anxiety. I was afraid to really put myself out there," Francis said, "I wrote out my own vocal warm up routine and started working on my voice." 
Francis was surprised when he saw that he had one of the leads in his first musical, and just as he was, his co-lead was surprised about landing a lead. 
"It was kind of unexpected, but I was kind of hoping for it," Jordan Carpenter, the senior who will be playing Belle, said.  
Carpenter did not expect to be assigned the role she was given for the musical. She believes her work off stage and experience helped her earn the important role.
"I was doing backstage stuff, so I think that because they know I love it so much, and that I was willing to work hard," said Carpenter on why she believes she received the role as Belle. 
Carpenter has been on stage for last year's spring play The Crucible, Spamalot – which was put on her freshman year, and several of NHS's Thespian Troupe plays. Additionally, she helped backstage for four other productions.
 Even with the new faces, John Neubauer, choir teacher and this year's musical director, feels confident about the show. 
"We felt really good about the auditions. Lots of good people, lots of depth," said Neubauer, "It will be a lot of work, but the kids are really up for the challenge."
About the Contributor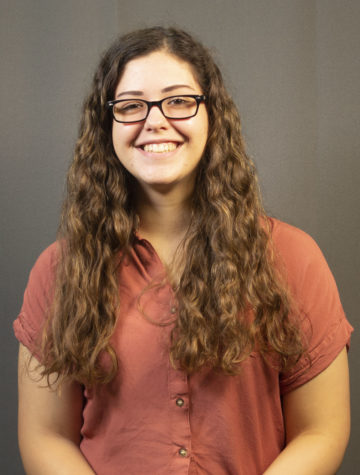 Emily Haynes, Staff Writer


Emily Haynes is a junior at Noblesville High School. She enjoys playing with her dog and spending time with friends. Haynes plays violin in the school...