Saying Goodbye; Seniors didn't get the regular graduation they wanted, but that's not all senior year is about
Kaci Craig, Business Manager and Photo Editor
May 26, 2020
I know times are rough. I know you had a vision of your picture-perfect senior year. I know you didn't get to say goodbye to the school you have been in for three and a half years. Covid-19 took the world by storm, and away went the second semester of senior year along with it.
Senior prom, senior ditch day, senior cookout, the last season of spring sports, and graduation: all struck down.. Second semester is cancelled, and there is nothing we can do about it. We have to say goodbye to the classmates we have grown to know, the teachers and faculty that we learned to trust, and the halls we walked down all four years of high school.
We didn't get the goodbye that any of us thought we would have. We say our goodbyes through Zoom and social media while we social distance. We are spending our Friday nights at home trying to find new things to occupy us, while we should have been going out and spending the time we have left in high school with our friends making memories that we take on with us to college.
We have spent the last 12 years, working towards the moment where we hear our name being called and walking across the stage to get our diploma. We wanted that last bit of closure, before we go onto the next point of our lives, whether that be college, trade school, military, or going right into the world. We are all going our separate ways and we no longer get that moment to celebrate all the achievements of the class of 2020.
But no matter how this year ends, no matter if we walk across that stage, if we don't get to say goodbye to the school that made us who we are today, we still have the memories of everything that happened here.
We will still  keep memories of first walking into the jungle we call high school. Noblesville's class of 2020 keeps the memory of the water main break, and our first homecoming week that didn't really happen. We went through hard times at the end of our sophomore year, but we keep the memories of the bonds we made with the peers and teachers who got us through it all. We've trudged through late nights of studying, and keep the memories of seeing it all pay off on college applications. We brought our lists of memories to life on our senior chords, and danced away our last homecoming.
No,  we didn't get the goodbye we wanted. But in grieving the lost competitions and ceremonies, we can remember that our high school experiences are  truly made up of all about the memories and time shared with others. Perhaps, our silver lining may be learning to more deeply cherish these memories, because we know the pain of losing time we thought we had. Now, we get to go into this new world after high school, and we bring along all those treasured memories of our firsts and lasts in high school. We will carry them as we see ourselves grow into the people we are meant to be. 
About the Writer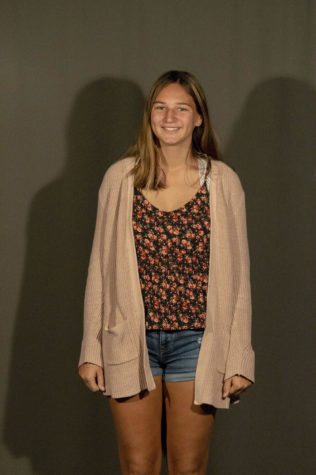 Kaci Craig, Photo Editor & Business Manager
Sammy Snyder
Kaci Craig is a senior at Noblesville High School. This is her second year on the Mill Stream staff. On weekdays you can find Kaci running...