Breaking the silence: This summer, Noblesville held its largest public protest against racism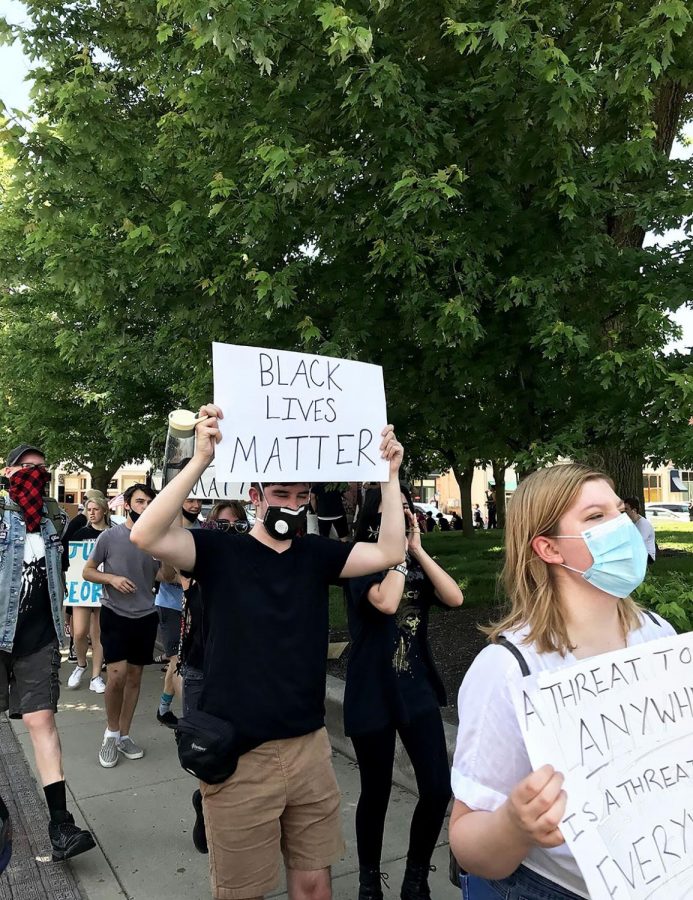 From injustice comes an outraged nation, and from an outraged nation comes change. After the murder of George Floyd, a wave of protests would ring loud, clear, and defiant from every state in the country to confront a history of systemic racism.
On June 3rd, Jay Thornbury, a junior at NHS, brought that wave to Noblesville with a powerful protest on the square that would shake the community for months to come. NHS students, staff, and local businesses contributed to the organized outcry for change.
"It ended up being better and more amazing than I ever could have dreamed or hoped," Thornbury said.
The turnout of the rally left not only Thornbury, but several others on the square with a heightened sense of comradery and solidarity among the group.
"I expected, maybe, thirty people at most, but I wasn't even close," Blake Thompson said, a leader at the protest. "It was all just people that want the same thing: change."
The desire for protest had been growing in the city, but for Thornbury, the events leading up to the national outrage brought him to the limit.
 "One day I scrolled through Twitter and saw all of these tweets and videos and I just broke down in tears," Thornbury said 
Feelings about the protest varied beforehand. Some, like senior Teegan Wilson, were eager to contribute. 
"I was really excited to go, because I wanted to see who all would show up to support their peers, classmates, and neighbors," Wilson said.
Others, like Thompson, felt the anxiety on the square, but were honored to push through and protest with his peers.
"People were scared… To see people go out and show support regardless of their fears and inhibitions meant a lot to me," Thompson said.
Even Thornbury was feeling anxious about potential backlash leading up to the event.
"I thought I was going to get made fun of for it. Like, 'Oh, look at these stupid kids,'" Thornbury said.
Unfortunately, backlash would become a reality for protestors like Thompson.
"One group of people that saw me a week after the protest ended up throwing bottles at me," Thompson said.
Thompson believes that many remain steadfast on their views of equality.
"There's a lot of racism here that, unfortunately, continues and will continue to exist," Thompson said.
Despite the backlash and anti-protest sentiment that was seen in the wake of the rally, many are looking to further the fight for change. 
"Another protest would allow for more of our community to gain perspectives and education," Wilson said. 
As the global fight continues, Thornbury believes that there is still more awareness to be spread and gained on this topic before real change can be seen.
"I don't think the issue will go away, and there may be more protests until we get the justice we want," Thornbury said.
About the Contributor
Ben Freeman, Staff Writer
Ben Freeman is a Senior at Noblesville High School. He is an avid musician, and a captain of the Miller Speech team. He is very interested in the concept...