A hard pill to swallow: Hospitals are shutting their doors to NHS interns this year, eliminating most traditional medical internships
Hospitals are shutting their doors to NHS interns this year, eliminating most traditional medical internships.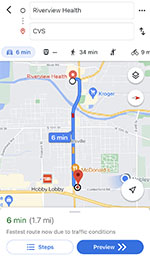 Senior year and eight science credits down: the moment you've been waiting for. It's time to enter an internship, to dip your toes into a field of your choice and experience what it might be like to be a part of it someday. But the possibilities aren't as endless as you've been expecting. Due to COVID-19 restrictions, at Noblesville High School, limited medical internships have been snatched up or eliminated, leaving future neurosurgeons with ill-fitting pharmaceutical placements. Medical internship slots were already difficult to come by due to high demand within the program, but throw a worldwide pandemic into the mix and you're left with even fewer opportunities than ever. With internships at certain hospitals and nursing homes now out of the question, it can be stressful for some students knowing that the chances are pretty good that they won't end up with their desired placements. 
Over the past few years, the COVID-19 pandemic has haunted NHS students with countless missed opportunities. As in-person programs collided with human safety, internships at hospitals and nursing homes were among the first to go. However, plenty of students are still clambering for the medical internship experience, making it extra difficult for internship coordinators to find a place for them all. 
"The hospitals right now have not been allowing medical placements, at least the ones that we work with, simply because of their COVID restrictions," said Daniel Nicholson, an internship coordinator at Noblesville High School. "They want to limit the number of people coming from the outside into the hospital." 
Despite the change in hospital participation, internship coordinators have ensured that there are other, safer opportunities for these students to pursue. 
"This year, we had to move many students who were interested in medical placements into non-medical placements or placements that maybe were only peripherally related to the medical field," said Mark Wilkinson, another NHS internship coordinator.
The CVS pharmacy technician training program is one of many alternative placements for students desiring medical internships. In it, students learn customer service and inventory skills essential to operating a pharmacy.
"The CVS plan is to create more pharmacy techs," Wilkinson said. "Most of our students who enter the pharmacy tech and training program have an interest in being pharmacists someday, but being a pharmacy tech can be a part time job."
However, pharmaceutical internships aren't a perfect fit for everyone. While pharmacy interns learn a lot about medication, they sometimes miss out on interpersonal experiences that only the medical field can provide. 
"The pharmacy tech and training program is going to get them experienced with medications and how a pharmacy works in a drug store, but not necessarily the interaction between patient and nurse or patient and doctor," Nicholson said. 
Another closely related field is the world of veterinary medicine, where interns can participate in the treatments of animals. Interns are also placed in more specialized fields of medicine not always located in a hospital. 
"We have some in dental [facilities], we have a few in chiropractors' [offices]," Nicholson said.
Additionally, the internship coordinators are constantly working to find new businesses for NHS students to explore. 
"Part of our job is to go out and network with people in our community and try to find companies that want to be a part of our program," Nicholson said. 
Ultimately, every student's internship journey will be different, with or without the effects of a global pandemic. Wherever this year's interns find themselves, the experience will teach them more about who they are. 
 "We hope that the internships give students an opportunity to see a potential career before they go and get training or further education in that field. Some of our students find out that they are on the right path and they like what they're hoping to go into. We have some students that find out that their career they're wanting to go into isn't a good fit, and we're happy with that too," Nicholson said.