Sacrifices for success: Showcasing the people behind the scenes supporting the Miller athletes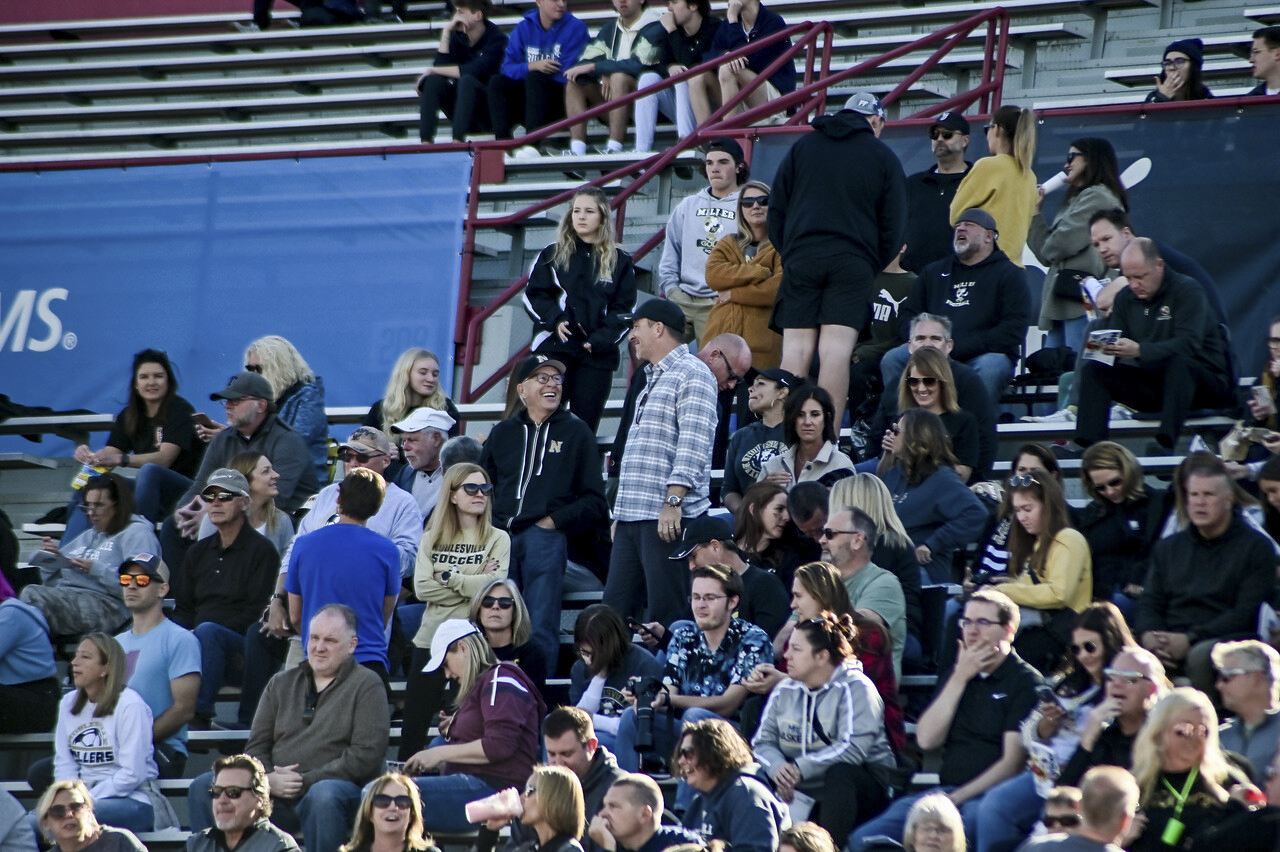 The sun is still asleep when a unique and dedicated group of parents rise to greet the day, packing their cars full of snacks, equipment and posters. The miles on the odometers climb as they drive back and forth, to and from school, dropping off their kids only to pick them up again a couple hours later. As NHS celebrates the accomplishments of its many athletes, the invisible hands of many parents hold up that same trophy too. From late night spaghetti dinners to early morning practices, parents of student athletes here at NHS are not only sacrificing their time and money, but their whole lives to support their children . 
Parent Support
In late October, four Noblesville athletic teams, cheerleading, girls soccer, boys soccer, and girls cross country competed for state titles. And in late October all four teams brought those titles home -three of them in single day- marking a historic day for Noblesville High School. Brinkley Cooper, a girls cross country state runner, has seen first hand the lengths her family went through to help her be a champion.
"Before every meet my parents would wake up early to drive me to the school, then they would drive to the meets, then back to the school after to pick me up," Cooper said. "They make tons of sacrifices for us and don't think twice about it."
Supporting athletes doesn't just revolve around the track or field. Parents often find themselves dedicating their entire workplace to the teams.
"Every Wednesday we run to [Megan Hazelrigg] Pilates studio for a class," said Cooper. "She has helped us and given us the resources to stay healthy throughout the season, prevent injuries and help us get stronger."
Maintaining the health of their athletes is a priority for parents, but so is rallying Millers together to support their journey to state. Julie Montgomery is a sports photographer as well as a mother of a son and daughter on the varsity soccer team. She can normally be found on the sidelines at games, capturing celebratory moments for the athletes. 
"It's worth it. Every memory I can capture for these kids makes it worth it," Montgomery said.      
Montgomery understands how difficult it is to win a state championship, Because of this, believes that everyone's participation is necessary, whether they are on the field or not.
"Every parent out there is dedicated. It takes a village, the behind-the-scenes work is tremendous," Montgomery said.
One parent who does a lot of behind-the-scenes' work is Annie Page, the mother of varsity football player Drew Page. A mother of three, Page goes out of her way to help support her middle child's football team, and all this extra effort doesn't go unnoticed, especially to the other players on the squad. 
"Annie Page is a big supporter of the football team," says junior, varsity football player, Jack Letourneau. 
Even though parents cannot jump directly onto the playing field and change the outcome of the games, Page believes that the team parents' role is to make the season as fun as possible.
"I don't have any control over [the] season, the outcome of the season, or any of those aspects. But what I can do, and what the other volunteers can do, is take care of the players," Page said. "[We] make sure that the parts that we do are fun for those players, and that they feel cared for."
Page has been working with the football team for several years, but recently she has taken on the role of head parent volunteer. But Page isn't alone in taking up this daunting task, as she had a circle of support around her
"I was really lucky, I had a lot of wonderful people surrounding me who helped out and pitched in," Page said. "Through that, I've been able to get to know these boys really really well."
Supporting the team has allowed for her to bond with the players, something that she will always cherish.
"I love cheering them on, and I love being their team mom. It's really fulfilling to be able to do the things that I have done with the other volunteers," Page said. 
As her middle child finishes his final season of high school football and awaits his new challenge at the collegiate level, Page wonders what it will be like for this chapter to come to a close.
"It's kind of an unknown territory for us, and I don't entirely know what to expect of it. It kind of makes me cherish the time I have left with him," Page said. 
Not only are the athletes on the field dedicating their time to athletics, but the cheerleaders on the sidelines are also bringing home state titles. Betsy Stevenson, the mother of Emily Stevenson, a sophomore cheerleading state champion, lets the girls know how much she values their work.
"I support the girls," Stevenson said. "I make sure they all know how proud I am of them." 
Supporting the girls is a priority, but so is erasing a stigma many cheerleaders say the face day to day. 
"Everyone has this misconception that [cheer] is just sitting from the sidelines, and it is far from that," Stevenson said. "It is a true sport, and these girls are true athletes who work themselves like little machines."
Sibling Support 
In addition to parents, the rest of an athlete's family can also experience the stress of supporting their competitor's sport. Kendall Cooper, sister to soccer player Brinkley Cooper, says how her household balances sports and being a family. 
"We go absolutely everywhere together so being so close I tried to help in any way I could," Kendall said. "We didn't get to spend as much time together as normal, but I'd say we were together as much as we could." 
The race to state placed a tremendous amount of stress on each member of the Brinkley family, but they worked together to make the best of the challenge and set the cross country team up for success.
"The mental capacity running takes up for [Brinkley] is a lot, " said Kendall. "Sometimes that is very overwhelming and puts stress on the whole family. We spent as much time in church as we could because that always put things into perspective."
Significant Other Support
To accomplish such feats, it's not only parents and players who make sacrifices. The task requires everyone they know to pitch in, from friends to significant others. This large time commitment makes an impact on every aspect of an athlete's lifestyle, forcing them to try and find new ways to spend time with the people they value, while still focusing on their sport and academics. 
"Even after a long day of school, practice, and work we always try to find time in between or even after, even if it's only for 30 minutes," said sophomore cheerleader Emily Stevenson who is dating varsity football player Cole Richardson.
Having a significant other during the season can be a challenge to any athlete, especially when the team reaches the postseason. Extensions to the season can require everyone involved to become creative in order to find time in their busy schedules.
"We will never be able to make up for missed practice," Stevenson said. "But we can always make up time with each other by going out to eat or stopping by after a practice." 
Relationships often face issues like this every season, as athletes struggle to find balance between school, sports, and dating. These challenges force students to make sacrifices in their lives every week.
"We try to find small things to do together such as lunch after school or hanging with friends after a game," said senior Laina Lillge who is dating varsity soccer player Noel Peña. "Even little things mean so much, as long as I get to spend time with him. I don't care what we do," 
Being a student athlete and a committed partner in a relationship can place a lot of stress on the shoulders of an athlete, and finding balance can be difficult. 
"A majority of the boys on the team are seniors, which means they have a lot to deal with at once," Lillge said. "Current classes, college search, work, social life, relationships, and soccer definitely took a toll on all of them."
Athletes especially recognize how a schedule like this can take a mental tol. But the players recognize how much the support from the people around them matters…dedication matters.
"I don't think [varsity players] prioritize soccer too much, but they let the outcome of each game get the best of their mood," Lillge said. "I think there's a place for constructive criticism and improvement, but everyone has off days, which is completely fine. Games should not define them, sports are supposed to be fun, so let it be fun."
Because the boys on the varsity soccer team love their sport, it can become their first priority, leading them to make a choice of their sport over other life opportunities. Decisions like this often require them to miss out on some of the typical high school experiences.
"During homecoming, they could barely enjoy it because they had soccer Thursday, Friday, and Saturday that week," said senior Maddie Frost, significant other of  varsity soccer player Adam Eberhart. "Last year, they even had away games during prom.". 
For state champion athletes, figuring out how to balance these demands never come easy. But in the end, for the winning teams at NHS, all their hard work, on and off the field, paid off with a collection of state titles
"He[Adam Eberhart] has made lots of sacrifices to play soccer," Frost said. "We only really get to hang out on the weekends because of how much practice they do throughout the week. He really has sacrificed a lot of his free time to play soccer, but he loves it, so I think it's worth it." 
"I love getting to watch him grow as a person and as a player too," said Emery Hammes, who is dating varsity football player Carter Richardson. "I'm really happy overall with the way he's played throughout this year's season."
As Instagram posts and articles celebrate Noblesville's athletic achievements, casual fans may not understand the behind the scenes work it takes to get there. Winning calls for more than just simply having the highest number of points on the scoreboard in the end. State titles require early morning practices, emotional family bonding, and multiple hands in the game to bring the team to success, and effort from every person in the household.