Double life: An inside look into the bilingual life at Noblesville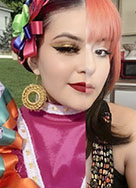 Imagine it's your first day of school. If you're like most students, it's an experience full of nerves due to new classes and new people. The typical first-day of school challenges can be anxiety-inducing; however, it can be made exponentially worse by not being able to adequately connect with your peers. But now imagine English is not your first language. For bilingual students like junior Kaylee Reyes or transfer students like Lorena Mata, a first day of isolation and alienation was not imaginary, it was their reality. Feeling disconnected to the culture you're surrounded by is something many bilingual students struggle with. But sometimes, students take it upon themselves to surround themselves in the culture that makes them feel comfortable.
Representing Culture
For most students, Spanish is simply another load on top of their already overwhelming classwork. But for Kaylee Reyes, a junior who identifies as Hispanic, the Spanish language she grew up with creates a connection between her background and her everyday life. Although Reeves speaks Spanish at home, she mostly speaks English at school. But even though she may not speak the language throughout the day, she still makes an effort to keep her culture alive.
"Because of the people I'm around, most of my friends are Hispanic and we speak in Spanish most of the time," Reyes said. "I connect with my culture by speaking in Spanish at home."
Language isn't the only way Reyes stays in touch with her culture. She actively participates in Baile Folklorico, a cultural dance focused on local folk culture.
While cultural practices may work for some, simple visual reminders are enough for others. With the help of her parents, junior Lia Benitez-Castillo's Caribbean culture is not just a memory from a far-off place, but clearly visible in her home.
"My parents always put our culture all over our house and never let us forget it," Benitez-Castillo said, "We have a Dominican shrine and a bunch of family pictures from the Dominican Republic."    
     Like Benitez-Castillo, other bilingual students would agree that culture should be a source of pride, openly displayed for the world to see. Senior Olivia Chingis understands this, and is not ashamed of where she comes from: Mongolia.
     "I'm very proud of my family, my culture, my ethnicity, and my identity. It's unique and I think it's so cool to be a part of something like that," Chingis said.
     Various cultures call America home, even if it doesn't feel like it at times. For these students, their country of origin tends to resonate more with them.
     "When I'm in the Dominican Republic, I feel like I'm finally 'normal,' like this is where I'm supposed to be," Benitez-Castillo said.
     The large population of Spanish-speaking students at NHS allows for these students to find people who speak the same language. They say this shared form of communication allows for a deeper connection between one another.
     "I don't think it's hard to speak Spanish in an American school because of the people I'm around. Most of my friends are Hispanic and we all speak Spanish at times," Reyes said. 
A shared culture between individuals can often cultivate relationships, as it has in Benitez- Castillo's life.
"Being Latin is what brought us together, and it still helps me connect with other people," Benitez-Castillo said.
Bilingual students often say they want to keep their background intact, but some negative experiences can frequently highlight the clash of two distinct cultures. This may lead to students' full background not being fully discovered, therefore pairing negativity with learning new things about their culture.
"I used to have moments where I had to learn about new things and at times it was embarrassing that I didn't know already," Reyes said. 
In order to avoid negative interactions stemming from ignorance, students like Reyes have to ask questions about their background in order to learn more about who students are and where they come from. 
"I think now that I'm more comfortable with just asking and learning new things about my culture, I know more than I used to," Reyes said. 
      Speaking multiple languages and understanding cultural details brings a set of benefits. But these students also potentially face displays of racism and overall violence. Bilingual students often say they encounter insensitivity or even blatant disrespect, and according to Benitez-Castillo's experiences, the incivility goes deeper than ignorance.  
     "This girl asked me why my hair was different, and I was really embarrassed to tell her that I'm Dominican, so I just ran away, " Benitez-Castillo said. "There were always racial slurs. I felt put down and it made me feel a little ashamed of my racial background."
     These insensitive exchanges are preventable according to junior Keilani Cruz. Cruz sees a potential opportunity for education on different cultures in classes at NHS.
     Cruz believes that there is room for improvement. 
     "In other classes like history, it would be more important to emphasize [learning different cultures]. I feel like a lot of the time we are so stuck on America and [its] history, and then you have other students who could be from different races and ethnic groups, and it would be nice to learn about your history as well," Cruz said.
How ESL Affects Student Life
     According to Linda Campbell, Senior Director of College Advancement at Trinity College, "ESL programs are a great asset in the process of integration and acculturation of the immigrant population. However, the limited funding and the need for updates have a negative effect on the learning process."
     In Indiana, native English speakers can pick up graduation credits for language classes like French, Spanish, or German. However, a different language program at NHS teaches non-English speaking students English throughout the school day. 
     English as a Second Language, or ESL, was created to help students who struggle with English, and in these courses students are taught English to help them succeed in their other academic classes. Although the program can be helpful, some ESL students believe the program can do more harm. These concerns about ESL are backed by real experiences from those who participated in it, such as Chingis.
     "I was taken out of class sometimes to do the ESL program where I would be taught more English, and I truly think it messed up my ability to be fully bilingual," Chingis said. 
     ESL is a program that is mandatory for some foreign language speaking students, but some students in the class feel like they were forced to take this course by only learning English in school, unable to express their culture with their native language. 
     "The problem I have doesn't have to do with comfortability, but more about the enforcement of ESL when I was a little kid in elementary," Chingis said. "At that point, I was only focused on English and lost the basis of my first language."
     The program being enforced also can damage the students' views of themselves. Being forced into a room and tested on English because they are, for example, Hispanic, does not provide bilingual students a sense of normality others kids experience according to Benitez-Castillo.
     "They took the Hispanic kids out of class and made them take tests," Benitez-Castillo said. "I felt suppressed in them … because I was pulled away from the 'normal kids.'"
     Although the program can be restricting for some, other students say it is a valuable resource for students learning English with no previous knowledge of the language.
     "My teachers, Mrs. [Kristen] Plahm, and Mrs. [Katherine] Graham help me a lot. No matter what class it is, they always try to help me with whatever questions I have," junior Lorena Mata said.
     The ESL program provides support from non-English speaking students, but Chingis worries that students in the program can sometimes feel they are being repressed from their native culture. According to Chingis, this can inherently do damage and represses some students from being connected with their culture.
    "Speaking this language in my household, or whenever I am in Mongolia, makes me feel better about myself," Chingis said. "[But] in Mongolia, I always get remarks about how I can even be Mongolian if I can't speak the language."
     Some ESL students say they take preventative measures to ensure they don't forget their native language. Mata says this is the case when she arrives home from school.
     "My younger brother was speaking to me in English, and my mom told him that we only speak Spanish in the house," Mata said, "because she doesn't want him to forget Spanish since he is still young."
Connecting Back to Culture
     Folkloric Dance is a term used to describe the vastly different regional dances of Mexico. Dressed in ruffled white linen dresses, women dancers adorn their hair with colorful ribbons and flowers in order to perform intricate, high energy routines.  Men are often dressed in a dark, intricately embroidered ensemble with boots, often reminiscent of American cowboys. Mexico is well-known for their unique dance styles ranging from Jalisco's jarabe tapateo and el baile de los sonajeros to Guerrero's tixtla. 
     Reyes' passion transcends geographical boundaries, and the origin for her passion is inherited. But she says she discovered this desire to dance during a momentous occasion.
     "I was inspired by my dad who has been dancing since he was a little boy," Reyes said, "I joined ballet folklorico because I wanted to learn a dance for my Quinceñeara."
    For some, learning two languages can be a challenge in itself. But what about those surrounded by it in their day-to-day life? While Abdallah Al Samaraee, a junior at NHS, is no longer fluent in Arabic, he is actively working to connect back to the former part of himself.
    "My entire family speaks fluent Arabic, but I only have a third-grade understanding of the language," Al Samaraee said. "So they are always actively helping me in advancing my knowledge in Arabic so that I can maintain conversations for longer and deepen my connection with it."
    He is attempting to further his ability in speaking his family's native language, Al Samaraee continues to attempt to connect not just with his family, but his heritage.
    "Truthfully, I feel envious around others that can speak Arabic fluently because of the grasp that they have on their traditions and culture," Al Samaraee said. "It also gives you the opportunity to connect with a more diversified group of people, which could bring many experiences that they would never experience without the language."