Change in Mind:Senior traditions are changing, but who's fault is it?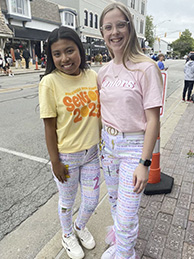 A branch snaps under your feet as you run anxiously around houses and through people's yards. You peek behind you to see if anyone is still following. Your heart races as you try to find a hiding spot. Your opponent gets ready. They aim. Splash. You have been eliminated from the senior assassin game.
NHS seniors all know what the traditional game senior assassin, senior water tag, is and understand the scenario above. This is one of the senior traditions, along with Senior Skip day, that the student body took full leadership of creating. Senior Sunday, Senior Sunrise, Brick Awards, and Senior Cords have all also become hallmarks of Miller's fourth and final year of high school. In the past few years, especially this school year, senior traditions have been changing, like Senior Assassin being renamed to Senior Water Tag and prom court potentially being discontinued. The traditions that students are used to are now changing or disappearing completely, almost to avoid controversy among the school or parents, and not for the benefit of students.
     While current and incoming seniors probably appreciate the school taking the feelings of all students into consideration, because of the many changes taking place this year, there may not be many traditions left for future Millers. Students and parents have expressed their dissatisfaction in the changes to these NHS traditions, but is this a problem the student body can fix? The answer is yes.
     Principal Dr. Craig McCaffrey points out it's not traditions being taken away, it's the fading interest the student body has in these customs that causes them to disappear.
     "Homecoming [court changes] started two years ago and prom was going to roll to that, but if only 30% of students voted [for prom court,] is it something that is really important and were we more in love with what we thought it was?" McCaffrey wondered.
     The problem with this controversy is it's impossible to accommodate every single person's request. Even though teenagers have been taught from a young age that life should be fair and equal, in reality that's not how life works. That's why students need to show they are willing to put in the work to make more diverse traditions for the future.
      "We want students to say they didn't like old traditions and tell us what they want to do instead," McCaffrey said.
     Everyone has traditions. They are created to unite communities. The NHS administration wants to focus on this aspect of traditions, keeping the ones that unite us.
     "We don't have a ton of school wide [traditions,] but the ones we have are very unifying for our student body, which is what we want a tradition to be." McCaffrey said.
     The reality of changing anything to fit one group of people is that there will always be individuals who won't be satisfied. Prom and prom court is a tradition that has been around since the beginning of Noblesville High School. When students heard that this tradition was almost taken away, they were disappointed.
     "When [prom court] was originally canceled, I felt that they took away a tradition instead of trying to make it work in today's society," senior Mackenzie Downs said.
     Is the disappearance of prom court a bigger issue for students or parents? Do we just like to think this is a bigger tradition than it actually is?
     "Only 4% of seniors submitted a nomination and only 30% voted for the court, so the question is, 'Was it that big of a deal?" McCaffrey said.
     Change is a part of life and the day and age we live in. If someone is offended, they should voice their opinion. If someone wants a tradition to continue, they need to fight for that tradition and show it should continue to be a part of NHS senior life.