Autumn descends on Noblesville: leaves cover the streets, cornflower blue skies greet you at every turn, and the scents of pumpkin, cinnamon, and apple fill your nose. It's this nostalgia that creates the market for shelves upon shelves of fall scents at Yankee candle, the autumnal treats at Starbucks, and the warm and cozy fashion trends that take over social media feeds. The way to encapsulate this energy, as difficult as social media would have you believe it is, is deceptively easy: baking.
     While baking can be made into a whole day affair, these simplified recipes are perfect for times when you're in a hurry, on a school night, or when you just don't have the energy to make the fall desserts you desire so badly from scratch. Despite their simplicity, these recipes sacrifice no quality, and are sure to be a crowd pleaser!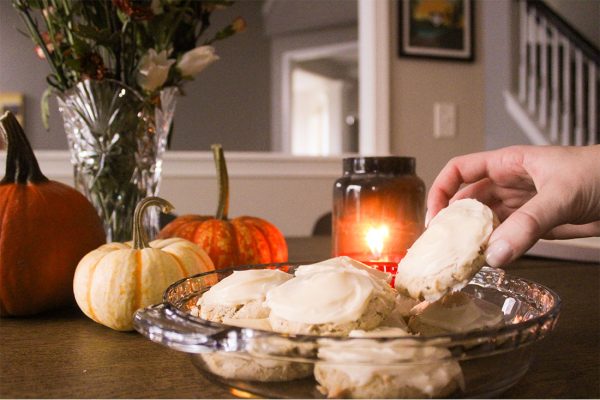 Apple Cinnamon Cookies:
     The combination of cinnamon and apple in the cookies brings back memories of apple pie on Thanksgiving, autumn wind flowing through an open window, and days spent plucking apples from the trees far above your head. Despite this being by far the most involved recipe, it's still remarkably simple. The flavors meld together to create an inviting, nostalgic flavor palette.
Story continues below advertisement
1 box white/yellow Betty Crocker cake mix
1 large egg
3 apple flavored tea bags (your choice of brand)
1 tbsp vanilla Greek yogurt (or 1 more egg)
1/2 tsp Cinnamon
2 tbsp flour
1/4 cup vegetable oil
Preheat oven to 350 degrees.
Mix yogurt, egg , and oil together.
Mix wet and dry ingredients thoroughly.
Scoop about 1 tbsp of dough in 2 inch increments onto a baking sheet.
Bake for 11 minutes.
     Wait for the cookies to cool completely, then ice with cream cheese icing. A more tart cream cheese icing brings out the apple flavor best. To get a more tart icing, either use store bought icing and add cream cheese until it reaches the desired taste, or make your own cream cheese icing from scratch.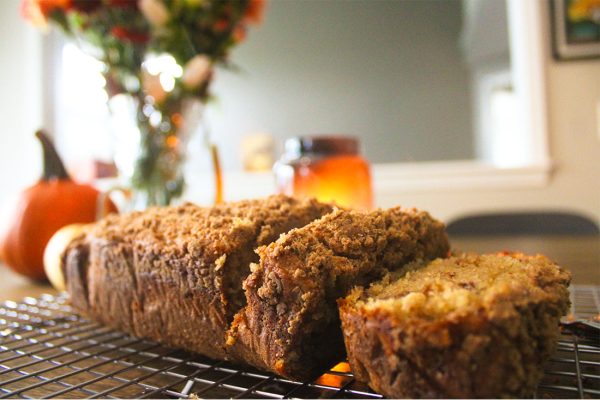 Cinnamon Chai Loaf:
     The chai latte at Noble Coffee and Tea tastes best iced; all the flavors of cinnamon, vanilla, and herbs come through in a frighteningly sweet amalgamation of flavors. This baked bread is modeled after that chai: sweet, satisfying, and delicious. For all the flavors it brings to the table, it is remarkably easy. The airy, light texture of the loaf combines with the strong notes of cinnamon, ginger, and black tea.
1 box Betty Crocker cinnamon streusel muffin mix
1 tbsp yogurt
2 eggs
1/4 cup vegetable oil
2/3 cup Tazo chai latte concentrate
Preheat oven to 375 degrees.
Mix yogurt, egg, and chai thoroughly.
Mix wet and dry ingredients together.
Lightly oil a loaf pan, and line with parchment paper.
     Bake for about 40 minutes, or until a toothpick can be pulled out clean from the loaf. Wait until the loaf is completely cool, and then use the parchment paper to pull the loaf out of the pan.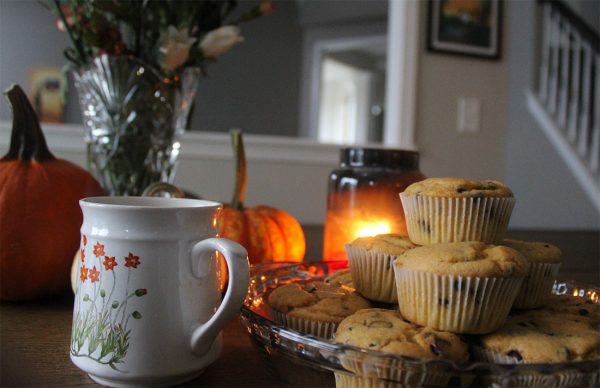 Pumpkin Chocolate Chip Muffins:
     Although this recipe began as a recipe for mocha chocolate chip muffins, once it September hit, it quickly became a chocolatey pumpkin muffin recipe. It brings back memories of early October mornings, running out the door with nothing but a muffin to get to school on time. The sweet, refreshing flavor of pumpkin melds with the rich chocolate to create the pinnacle of autumn breakfast pastries.
1 box Betty Crocker chocolate chip muffin mix
3 tbsp pumpkin purée
2 tsp cinnamon
1 tsp nutmeg
1/4 cup semi-sweet chocolate chips
2 eggs
1/3 cup vegetable oil
2/3 cup water
Preheat oven to 350 degrees.
Mix the eggs, water, oil and pumpkin purée thoroughly.
Combine wet and dry ingredients.
Pour about 3 tablespoons of batter into each muffin cup.
If any batter is left over, spoon the leftover batter into other muffin cups, making sure they are similar in size.
Bake for 18 minutes, or until lightly browned.