Crocs for change
How one student makes her mark in Guatemala
Hang on for a minute...we're trying to find some more stories you might like.
     America: home of the free, land of the materialistic.
     Psychology Today magazine states that the average amount spent by Americans on one pair of shoes is $79.
     Third world countries and underdeveloped nations of the world with widespread poverty don't enjoy that luxury. People who live in these parts of the world live on less than $2 a day. So how are these people supposed to spend an equivalent of $79 on a pair of new shoes?
     Here's the short answer: they don't.
     But junior Kaylin Mertens is working on a solution to the problem, and it involves those ubiquitous plastic shoes seen everywhere from restaurant kitchens to the halls of NHS: Crocs.
     Two years ago, Mertens stepped onto the soil of Guatemala for the first time. In her opinion, the thing that caught her eye the most was joy.
     "These kids were just so happy with the little stuff they had. Even the kids on the street that still had even less than the kids in the orphanage…they were so happy," Mertens said.
     Since then, she's returned on mission trips two more times with her family. Kaylin's mother, Gina Mertens, believes that those visits to Guatemala have made a huge impact on their family.
     "Our love for each other has grown as has our love for others. It has grown our compassion for others," Gina said.
     In Guatemala, Kaylin, Gina, Kaylin's father, and her younger brother work with Ron and Rhonda Hendricks, mother and father of the New Beginnings home in Santiago, Guatemala.
     After working with the Hendricks for two years, Kaylin considers them as close friends and considers their children her family.
     "But on the second and third [trips], I've just made a true connection with the kids there just because I'd taken [Spanish classes] so then I could create relationships with those kids. Those kids became like my family and not just [the Hendricks] family," Mertens said.
     Along with life-long relationships, Kaylin feels that Guatemala has made a huge impact on her life.
     To her, stepping off of the plane felt like a breath of fresh air.
     "I feel like, before Guatemala, I didn't know what my purpose was," Kaylin said, "And then after going, especially the second time, I finally felt like I had a purpose. Like, I knew why I was supposed to be there, and that was so relieving."
     Although Kaylin believes it is her purpose to go, she also believes that is it her purpose to help, even when she's not in Guatemala.
     Here's where the Crocs come in. After talking with the family of a close friend, a light bulb went off in Kaylin's head.
     "I quickly realized all of these kids [in the U.S.] are wearing Crocs," Kaylin said, "so I figured that I'd put out a tweet."
     Kaylin only expected a couple of likes and a couple of retweets from her followers. But within 24 hours of posting the tweet, she had over 400 retweets from people around the country. Today, the tweet has approximately 500 retweets and 250 likes.
     "The Crocs official Twitter page reached out to me, and we're in the process of figuring out something, but I'm not sure what that'll be," Kaylin said.
     To date, she has collected 30 pairs of Crocs.
     "I was never expecting this [to happen]," Kaylin said.
     In addition to Crocs, she has received tennis shoes as well, bringing her numbers up to 60 or 70 shoes in total.
     Because of her success, Kaylin has created a new goal.
     "Now that I have more than enough shoes for the kids in the home, I want to get shoes out into the community… I want them to have a part of shoes that they can rely on for a while," Kaylin said.
     As of right now, the Crocs collection isn't where the journey ends for her. When she leaves for college, she hopes to have a major in psychology and sociology and a minor in Spanish and human rights.
     "I dream big when it comes to my future," Kaylin said.
     Gina has high hopes for her daughter as well.
     "My hopes for Kaylin [go] beyond Crocs. I hope she will always show empathy and compassion for  others," Gina said, "that she will continue to have a heart for volunteering, serving, and giving. And that she will continue to develop servant-like traits as she matures into adulthood."
     After college, Kaylin wants to start a children's home in Guatemala.
     "I feel like there's so many kids who just need a loving home," Kaylin said, "but not only just start a children's home, I just want to help out the community."
     But for now, Kaylin will continue to help out where she can.
     "I love Guatemala and I know it's my purpose [to go there]," Kaylin said, "but I also know that there's still people I need to help here before I can go to Guatemala again."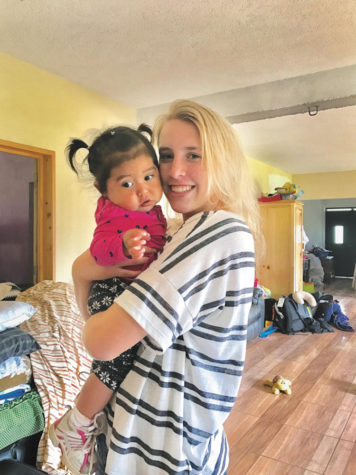 Kaylin poses with Carmen, the  youngest child living at the New Beginnings home in Guatemala. Carmen was brought to the home at 9 days old.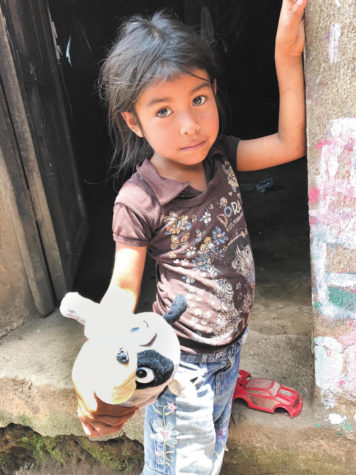 A little girl lives in a one-room shack with her family in the mountains of Guatemala. On the day this picture this was taken, Kaylin gave the girl a stuffed animal, which was most likely her first one.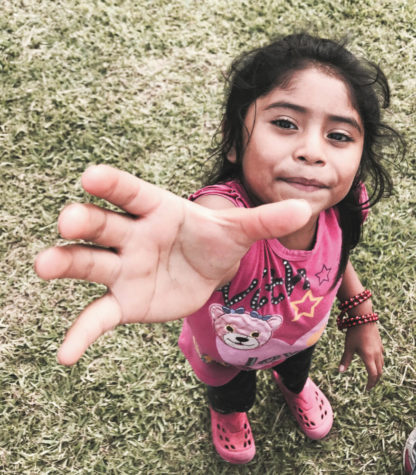 Magnalana was brought into the New Beginnings after being a victim of human trafficking.  Now, she has access to better education, is able to enjoy dancing, and is learning to speak English.