Dedicated Dellinger: After 38 years of teaching, a former NHS teacher shares his experiences
1959: Volvo invented the modern seat belt. The very first Barbie Dolls were released by Mattel at the American International Toy Fair in New York. Alaska became the 49th state of the USA, and later on, Hawaii became the 50th.
1959: Richard Dellinger began teaching at Noblesville High School.
Dellinger is a familiar fixture in the Noblesville community. These days, he's enjoying his retirement, but his stories of his teaching days retain their importance all the same.
For 38 years, Dellinger taught government and was a senior class sponsor at NHS, until his retirement in 1997. In 1954 he graduated from Elmwood High School, and originally became a teacher because of his own time spent as a high school student.
"You know, my high school experience was a very good experience," Dellinger said. "I was class president all four years in my school, and I was on the debate team. It seemed to me that the teachers had a lot of fun, and so I wanted to have a lot of fun too."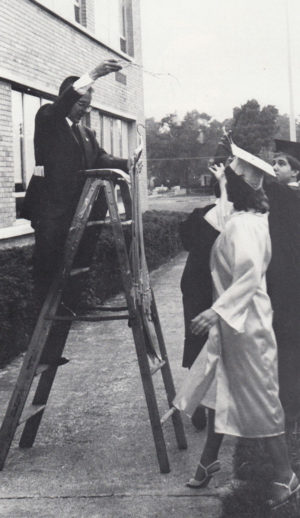 According to NHS economics teacher Brian Powers, who worked alongside Dellinger for 12 years, Dellinger really did have a lot of fun in his classroom.
"I taught right next to him, and for all those years we were neighbors, I could hear him through the wall telling jokes," Powers said. "And when kids would go to sleep he'd bang on the podium real loud to wake them up, and  yell 'Yoo-hoo' in a really loud voice."
Former NHS student and current teacher Rich Harden has his own story of being awakened in Dellinger's class. Dellinger could be strict at times, despite having a sense of humor, Harden noted.
"One time, he saw me dozing and took his pointer stick he used for maps and such, and slammed it down on my desk," Harden said. "Woke me up pretty quick."
As for college, Dellinger stayed local to the area he grew up in, getting both his undergraduate and graduate degrees from universities close to home.
"I had the best of both worlds, public and private," Dellinger said. "I went to Ball State for undergraduate, and Butler for graduate."
In his first year working at NHS, there was an opening for the position of senior class sponsor. Dellinger ended up holding the position with another teacher, Joe Potts, for a time before taking it over entirely later on in his career.
"We became pretty good friends right off the bat," Dellinger said. "We were in our faculty meeting and they said that they didn't have a senior class sponsor, and would anybody want to volunteer. They would pay us an extra amount of money, a 100 dollars more a year, to be senior class sponsor. Joe Potts said, 'I will if you will,' so we both volunteered, and we split it for 50 bucks a piece. I continued as senior class sponsor for all the other 38 years."
Dellinger said that part of his responsibility as senior class sponsor included running the graduation ceremonies and commencement for each graduating class. He was known for being very efficient with these arrangements, according to fellow government teacher Butch Robbins.
"He ran graduation, and ran it very precisely," Robbins said. "I mean, he would tell you, we'll be done in less than an hour, and it would be done."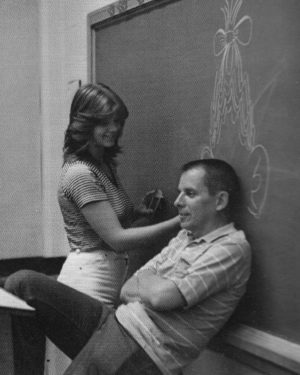 In addition to being the class sponsor and being a teacher, Dellinger also held a state representative position for 20 years. Robbins recounted a story of Dellinger in the House chamber following the Hazelwood v. Kuhlmeier case of 1988. The case reached the Supreme Court after a high school newspaper came into conflict with their principal, who deleted stories about teen pregnancy and divorce. Eventually, it was decided that the freedom of speech of high school journalists was not violated when certain articles were prevented from publication by school officials. Dellinger stepped up in the aftermath, advocating for rights for Indiana, Robbins said.
"He stood up on his desk, in the House of Representatives chamber, and said, 'This needs to happen,'" Robbins said.
The photo that resulted from that moment made the front page of the Indianapolis Star.
"He's just standing right there— typical Dellinger," Robbins said. "So, of course, what did some of his coworkers do? They made copies of the picture, they caked his classroom with the picture. But that's probably one of my favorite stories that I have with him, because he supported the student journalists, but he made a big deal of it, to say, here it is. And he didn't mind stepping forward."
Dellinger was also a favorite among his students, his coworkers noted.
"He's one of those teachers too, he told really good stories, and he'd be funny, but if you weren't paying attention to him, you'd never catch it," Robbins said. "He's one of those."
"You knew messing around wasn't going to be tolerated, and that he was pretty strict," former student Harden said. "But he was also pretty funny at times."
Several of Dellinger's students even grew up to become teachers at NHS themselves. Dellinger remembered these students fondly.
"I'm proud of them," Dellinger said. "I like my former students to be successful, and I take a certain degree of pride in it when they are, because I'm egotistical enough to think that I probably had something to do with it."
But, according to Robbins and Powers, his students weren't the only ones Dellinger found himself teaching.
"To me, he was one of my mentors," Powers said. "He was the one who got me through everything in the beginning."
"[It was a] learning experience," Robbins said. "I always learned something new from him."
When Dellinger retired in 1997, Powers said he was sad to see him go, but it seems Dellinger never managed to stay away for long. Powers said he returned to the school periodically for a few different reasons.
"After he retired, he loved our cafeteria's turkey tetrazzini," Powers said. "So he had a calendar of what the cafeteria was serving, and they knew, whenever they made it, they made him a great big pan. And he used to come in until the last few years to pick up his turkey tetrazzini. And then, he'd always stop by my room, and interrupt my class, right in the middle of what we were doing. He'd start harassing kids, and asking them who their parents were and if they had him, and telling jokes, and he'd interrupt my class for 25 to 30 minutes. And after he left, I'd have to get control of it again." Powers paused to laugh. "But he was just like that all the time. He was just a pleasure to be around."
It's been 22 years since Dellinger retired. However, when asked if there was any bit of wisdom or knowledge he'd like to pass on to the current students and teachers of NHS, he had a fast response.
"Things have changed, I suppose, and you've got to learn how to grow and go with the change," Dellinger said. "Make things the way you like them. Change is inevitable. You've got to go with the flow, I guess."
About the Writer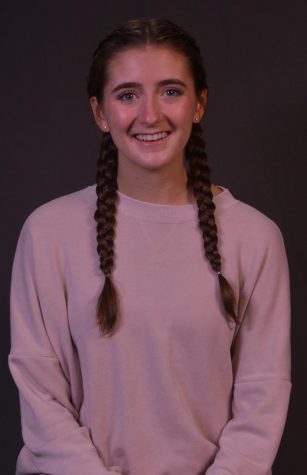 Lauren Patrick, Co-Managing Editor


Lauren Patrick is a junior at Noblesville High School, and this is her third year on the staff. Lauren has a serious love of books, writing,...