Behind the terror: Senior Elliott Craw brings scary creatures to life through makeup
A dark, decaying house awaits your arrival. Stepping inside you see the face of a spine-tingling body. Screams reside in the shadows of every corner. Souls move rotting hands to their faces, terrifying those who pass. Alarming faces reveal themselves around each corner, skin dangling from their living corpses.
If you've ever visited a haunted house, you recognize this scene. Lurking behind each creepy face in a haunted house is a talented makeup artist. And behind every special effects makeup artist is a mind fueled by an imagination like no other. NHS senior Elliott Craw has one of those minds, and he strives for frightening art after discovering his passion.
 "Being a horror fanatic got me more into special effects," Craw said.
Craw says these scary movies lead him to clips on YouTube about the films. Little did he know that a suggestion for special effects makeup would make an appearance on his own page.
"I started seeing recommendations on my YouTube, because I watch horror clips from movies, and a channel came up that did a bunch of special effects makeup," Craw said. "I watched it and I thought, 'Okay, I want to try this.'"
Craw's love for horror movies was just the first step down the path of special effects. He worked at Indy Scream Park, which truly opened his eyes to the world of haunting makeup.
 "I started working there when it opened in 2018. I was an asylum patient. I felt like I could bring out my horror movie side and get all hyped up," Craw said.  "The makeup helped. It was very fun."
While Craw enjoys the acting, he says his aspiration is to create the characters scaring the public.
"I love acting, but I'd rather work behind the scenes," Craw said. "They told me if I started doing better and still practice my makeup, I could most likely act and do makeup."
Craw's former manager at Indy Scream Park, Michaela Mehling, noticed his drive for special effects (SFX).
"Elliot has always been very passionate about SFX make up," Mehling said. "He would send me pictures in the middle of the night asking me what I thought about his work and if they could wear it out to work, and I was always very amazed by what he could accomplish."
Mehling has high hopes for Craw's future and believes he will go far in the growing art of SFX.
"I could honestly see him going very far in the future," Mehling said. "He's already succeeding for his age and experience so far. With his willing attitude, I could see him going far and making a career out of it."
Craw says he has big plans for his future in special effects. He is contemplating a new adventure after high school, Tom Savini's Special Effects School.
"[Tom Savini] is the guy that did the SFX makeup for 'Friday the 13th,' 'Texas Chainsaw Massacre,' 'Dawn of the Dead' and a lot of other popular horror movies," said Craw.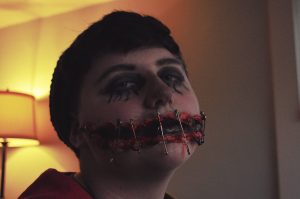 Craw's enthusiasm for special effects may seem odd to outsiders. However, an undeniable fire burns in him that may not be visible to the public eye.
"A lot of people think it's kinda strange, because it's scary stuff," Craw said. "It's just how I am, and it's something I really enjoy."