A journey through jazz: A look into the nationally recognized NHS jazz ensemble #1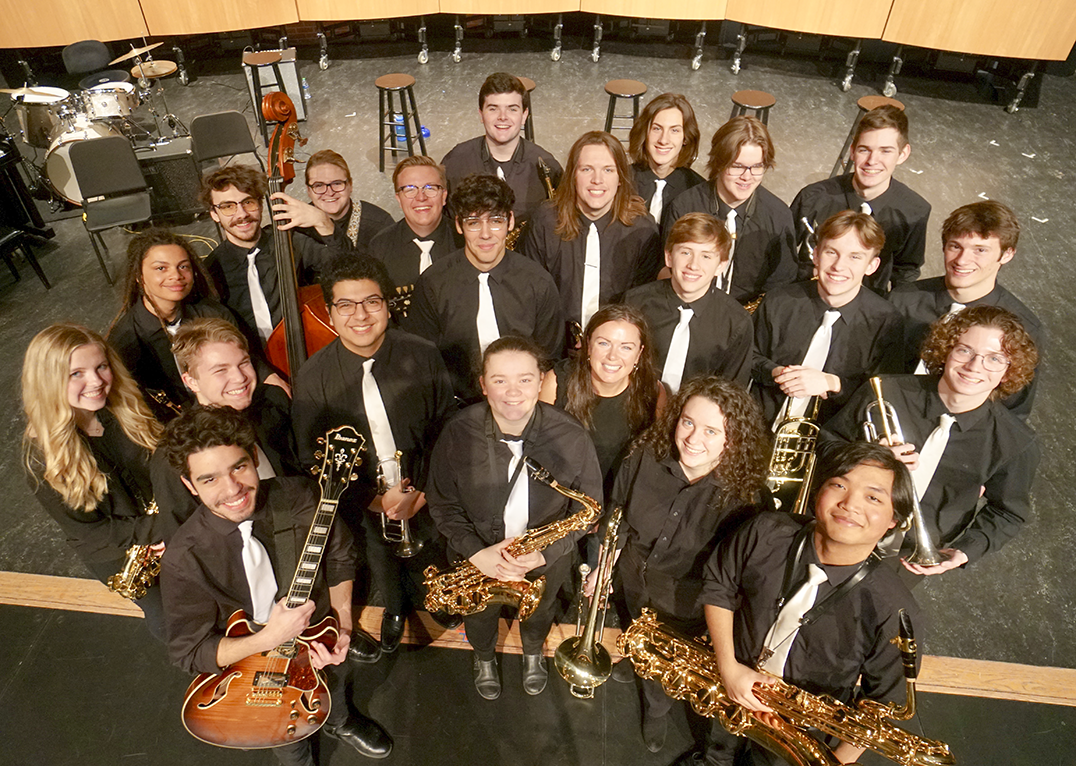 Imagine the feeling one gets when they achieve something they've been working towards for a long time. The feeling of success after months or even years of hard work. The feelings of relief, excitement, and joy fill your minds. This is exactly what went through the minds of numerous NHS Jazz musicians this year.
Last year, the school's Jazz One was chosen as one of 15 bands nationwide to attend Essentially Ellington, a premier jazz competition and festival. Unfortunately, due to COVID-19 restrictions, the band was unable to attend in person. But this year, they've done it again, and this time the group was selected for the second time for the elite competition, disproving the theory that lightning doesn't strike the same place twice. 
The journey to be selected for the second year in a row did not come easy. Jazz One worked hard throughout the year and received assistance from outside instructors that greatly influenced their performances throughout the year, as demonstrated by their first place finish at the Elliot Hall at the Purdue Jazz Festival. 
"[We're fortunate to have] a great improv coach and mentor ,Peter Luttrull, at NHS. [As well as having] the dedication of the students who take such great care of the music by knowing the history and really learning how to emulate it," said Bethany Robinson, NHS jazz band instructor, musician, and finalist for this year's Grammy Music Educator of the Year. "Students spend a lot of time listening to jazz and transcribing solos from the jazz greats, which is a big part of a successful jazz musician."
The student musicians of Jazz One are excited at being able to physically attend the competition. According to them, it is an extraordinary accomplishment and a privilege to be a part of Jazz One.
"It's an amazing opportunity and I'm extremely thrilled to be able to go to Ellington," said Nate Cook, NHS senior saxophonist. "I was a part of the band last year when we got selected but were unable to go to New York because of COVID, so I'm really glad that we'll be able to go this year. It's been a huge goal for the jazz program since I was in 8th grade, and it's like a dream come true." 
"It's so surreal. All of our dreams are coming true. We've worked so hard for this and I'm so happy for our band, we deserve it." said Levi Rozek, NHS Junior and trumpet player. 
Alden Ruth, at NHS Junior and trombonist, feels similarly. 
"It feels amazing. Everyone in the band has been on the same page since day one in terms of wanting to make it again this year, and I am so lucky to be a part of a band that is as supportive as it is," said Ruth, "We made it last year, but this year it's nice knowing that every band we are playing with are at their best, since a lot of other places weren't able to go to school at all, and that we are all able to go to New York to play music together. It will also be a great privilege to meet and be taught by some of the best musicians in the country while we are there."
For Rozek, the band has become a sort of second home for him, and he attributes that feeling to a large part of their success.
"This band has become family to me. I have a deep and profound love for each of my bandmates, and I genuinely view them like brothers and sisters," Rozek said.
Ruth agrees that the bond between members is one of the band's most important strengths.
"I think that the nature of the music is very expressive, and the people who enjoy it and play it are some of the best people to be around. It is a very friendly environment and everyone in the band hangs out as much as we can outside of class. The chemistry and friendship we have as a group is our greatest strength," said Ruth.
In the future, Robinson has expressed interest in pushing the NHS Jazz program to new heights. She plans to do this by continuing to foster these relationships the students value so much while also making an even bigger name for the NHS jazz program.
"In the near future, I think our students are going to offer incredible performances on the state and national level for ISSMA Jazz State Finals, the National Jazz Fest in Philadelphia, and Essentially Ellington hosted in New York City," said Robinson, "I want to provide great opportunities for students to experience life-changing musical moments. I know that each year this program will grow and find new creative outlets to keep things interesting and exciting.
Overall, Robinson believes the success of the NHS jazz program will only keep improving.
"The dedication and excellence level of the students just keeps improving. Success breeds success- we also have a really healthy culture of collaboration and joy in the jazz classroom. When students work side by side with really incredible peers, it spurs them on to work harder and learn more about this amazing indigenous American music," said Robinson, "The beautiful thing is, if you've been an alum of this program, you are a part of the current success. That will always be the case. It's the legacy that our jazz and music grads have. We'll always be family."